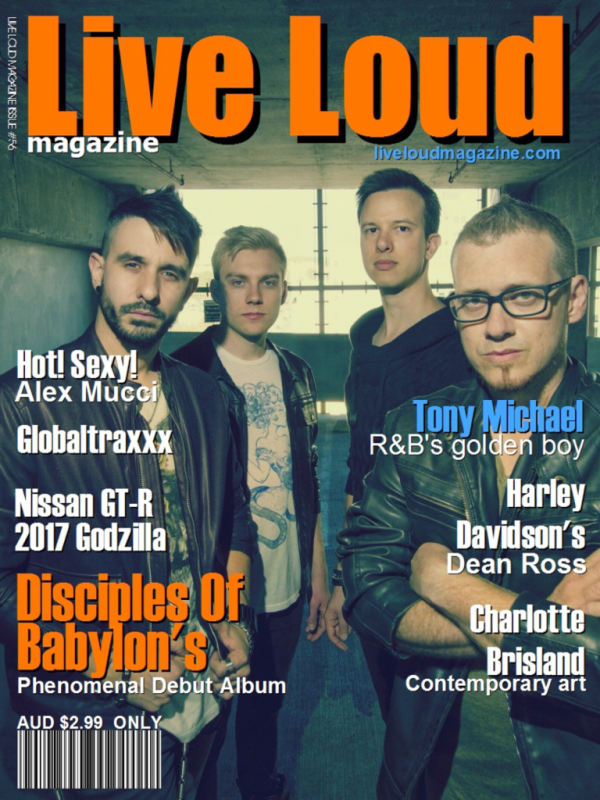 Purchase Options
Available for iOS / Android
In This Issue
Tony Michael

Tony Michaels dream was to become a basketball player until he fell in love with the passion of making music. After going in and out of abandon homes, foster homes, to group homes caused this young artist to become mentally focused and determined to become successful in the music industry.

Dean Ross

Dean Ross is incredibly skilled on a bike and he caught our eyes on Youtube a while back, what a talented and great guy! Dean began riding dirt bikes at the age of 5, racing both MX and SX competitively until 2016. After sustaining an injury Dean shifted his focus and purchased a Harley Davidson Motorcycle, a 2015 DYNA Street Bob and began stunt riding.

Disciples Of Babylon

In this month's edition, we have the great pleasure to introduce you to the Disciples Of Babylon, a great rock band from Hollywood California. It is really refreshing to come across these guys as nothing quite like it has been produced for a while now. Their debut EP release 'Welcome to Babylon' was just released last fall and was produced by Grammy winner Andres Torres and mastered by Grammy nominated Joe LaPorta (Foo Fighters, Imagine Dragons, Vampire Weekend) making this a world class project all the way. We interviewed them.

Charlotte Brisland

Charlotte studied painting at the Royal College of Art in London and has exhibited in London, Japan, Europe and New York. Her work is an imagined landscape prompted by real experiences. She spent a long time travelling and living in different countries including Japan to experience worlds outside of her understanding.

Alex Mucci

Gents, Alex Mucci is 28 years and is from Italy; after her graduation, she moved in northern Italy where she spends six months in Turin and the other six in Milan. Alex holds a degree in Engineering Aerospace! Immediately after her graduation, she left for Australia, where she lived in Sydney for two years until December 2015. She worked as a bartender and also ran a well-known Italian restaurant in the CBD.
Purchase Options
Available for iOS / Android
About Live Loud
Live Loud Magazine is the original music magazine app for the punk & hard rock lovers.

Whether you're into skate punk or grunge, love live music & can't miss a gig then Live Loud is your mag!

Join your community now!
Category: Dance, Lifestyle, Music, Travel & Destinations, Entertainment
Publisher: Live Loud
Published: Monthly
Language: English
Compatibility: iOS / Android
Peek Inside
Tap images to enlarge...
About The Publisher
Live Loud Magazine is more than a music mag: it's your guide to a rad way of life. Punk is: the personal expression of uniqueness that comes from the... read more

Past Issues
Tap below for more from Live Loud