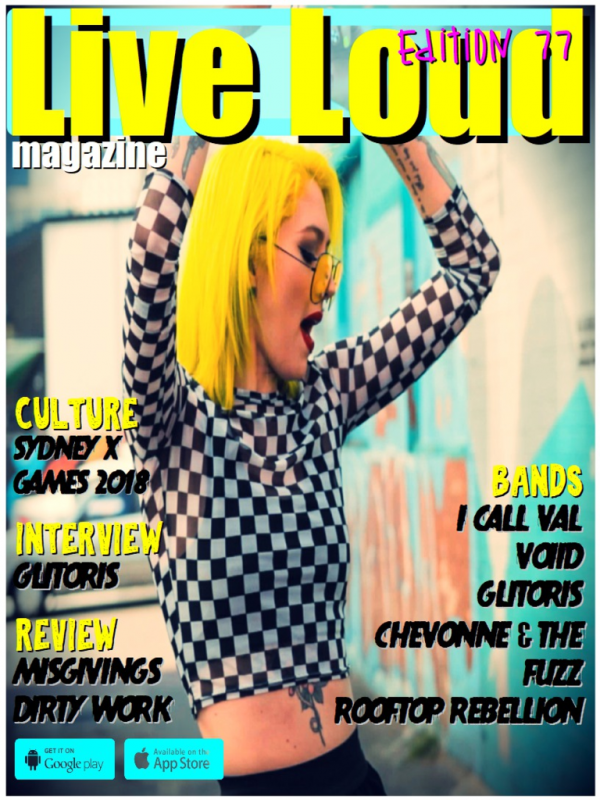 Purchase Options
Available for iOS / Android
In This Issue
I Call Val - Not Another Bubblegum Pop band

I Call Val's Paige Savill has a sweet, husky voice that lends itself to a certain breathy hesitance. But it is also pure, decisive, arresting and packs a powerful punch. It's a powerful instrument to wield and she does a good job wielding it on "The system is falling." This song which is about the ugly side of the beauty industry will make you feel empowered or at least, get you tapping to the infectious melody.

Voiid: Loud, Aggressive & Totally Awesome

There is a fresh, authenticity about the Australian punk rock scene, it's loud, it's raw and fucking awesome and girls are just breaking down barriers like never before. It is harder to ignore the female power not with bands like VOIID.

The Glam, The Glitz & The Glory

With a name like Glitoris it is easy to see that the four piece all female band was created to provoke, to challenge to kick stereotypes. They came onto the scene like a massive tornado, unavoidable, destructive and unapologetic.

Dirty Work

Nothing says Punk like spiky hair, Mohawks and pierced noses - right? It would be wrong to focus on the aesthetics of it all because looks are deceiving, right? I know I'm right, especially when it comes to Canadian Street Punk.

The fuzz

When Lauren Ianuzzi a.k.a Chevonne Ricci bounded up on stage performing Billy Idol's "Dancing With Myself" with such range, passion and wild abandon, on Season 3 of The Voice, it was clear that the pintsized dynamite was headed for greatness.

The Aussie legends who made history in the 2018 Australian X Games

The X Games landed in Australia on Oct 19-21. Athletes descended on Sydney to compete in Skateboarding, BMX and Moto X. It's no secret that OZ has a lot of people who are just in love with skating and everything extreme.

Skateboarding: The Evolution

Tony Hawk got on his first skate board at the age of 9, by age 12 he was so good that he landed his first sponsorship and by age 16, Hawk was the top skateboarder in the world. This was all during a time when Skateboarding was regarded as something that antisocial, troubled kids got into. People did not know what to make of the skateboard culture.
Purchase Options
Available for iOS / Android
About Live Loud
Live Loud Magazine is the original music magazine app for the punk & hard rock lovers.

Whether you're into skate punk or grunge, love live music & can't miss a gig then Live Loud is your mag!

Join your community now!
Category: Dance, Lifestyle, Music, Travel & Destinations, Entertainment
Publisher: Live Loud
Published: Monthly
Language: English
Compatibility: iOS / Android
Peek Inside
Tap images to enlarge...
About The Publisher
Live Loud Magazine is more than a music mag: it's your guide to a rad way of life. Punk is: the personal expression of uniqueness that comes from the... read more

Past Issues
Tap below for more from Live Loud