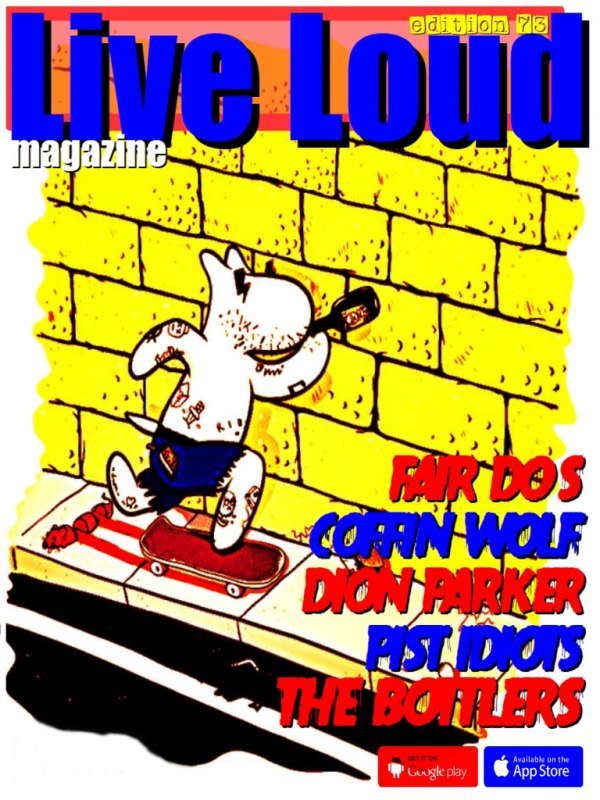 Purchase Options
Available for iOS / Android
In This Issue
Coffiin Wolf

What goes into the making of a great punk rock video? Coffin Wolf answered that question with the video for their popular single 'Open Road'. It's all about the music. The song is a fast and loud head banger.

Fair Do's

Fair Do's brought their own unique brand of Skatepunk with a heavy rhythm, technical guitar parts and catchy sing-along melodies. They have a pioneering sound that deftly combines the best of punk-rock, heavy-metal and skate-punk with a superior technicality.

Diion Parker: Living his best life

Most cartoonists these days go to art school. That's a novel idea in itself, but even so, most of them aren't recognised as true artists. I find them to be radical nonconformists. The people who draw societies idiosyncrasies.

The Bottlers

I've been struggling to find a way to define folk punk. According to the all-knowing Wikipedia, Folk punk is a mix of folk music and punk rock made popular by the Pogues in the UK and the Violent Femmes in north America.

Pist Idiots

Pist Idiots is one of the biggest punk rock acts of the year. The group of four friends from the a little known town called Revesby has had a busy time this year. The band has been everywhere sharing stages with some notable bands like Justice and Beck while making friends along the way.
Purchase Options
Available for iOS / Android
About Live Loud
Live Loud Magazine is the original music magazine app for the punk & hard rock lovers.

Whether you're into skate punk or grunge, love live music & can't miss a gig then Live Loud is your mag!

Join your community now!
Category: Dance, Lifestyle, Music, Travel & Destinations, Entertainment
Publisher: Live Loud
Published: Monthly
Language: English
Compatibility: iOS / Android
Peek Inside
Tap images to enlarge...
About The Publisher
Live Loud Magazine is more than a music mag: it's your guide to a rad way of life. Punk is: the personal expression of uniqueness that comes from the... read more

Past Issues
Tap below for more from Live Loud