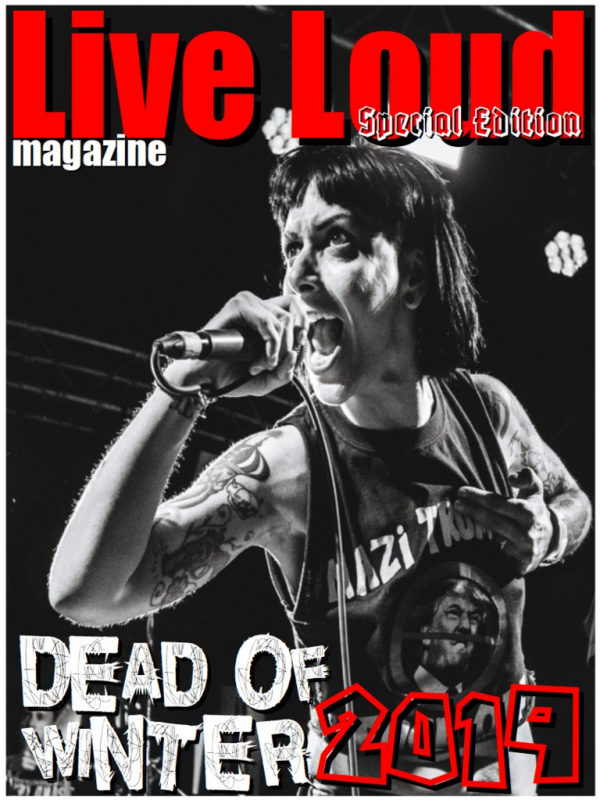 Purchase Options
Available for iOS / Android
In This Issue
2019 Dead Of Winter Festival

For those music lovers who attended Dead of Winter Fest on Saturday, July 13th, 2019, you were in for a truly good time. The sun was out, and the tribes were there too, in anticipation, for this years veritable "smorgasbord" of heaviness that brought music from the USA, New Zealand and many more nations. I was there at Brisbane's annual Dead of Winter (DOW) festival and what a blast it was.

Lagerstein 25/7

Ahoy, mates! Any wannabe pirates who are rock metal music lovers should be ready for some jolly good times with Brisbane's pirate metal band, Lagerstein. Lagerstein hired Fredrik Nordström a very in-demand and well-respected music producer from Sweden to help bring Lagerstein's full-length EP to the pirate loving masses.

2019 Bowl A NANA

Once a year the traditionally sleepy, laid back, arvo in a hammock with a coldy town known for its ability to produce a shit tonne of yellow fruit plays host to the circus of mayhem and chaos that is the Australian Skate Federation, which can mean only one thing; BOWL-A-NANA baby!

From Parts Unknown

For those who follow a very talented Rock N' Roll/Punk rock music playing trio called From Parts Unknown, their newest EP, S8n is piping hot -- like, right off the digital presses, hot.

The Decline Flash Gordon Ramsay Street

Australia's skate punk scene is alive and well with bands like The Decline, kicking ass and taking names. The Perth Based 4-man band have been at it for over a decade now. I guess that makes them legends of the skate punk scene. We have a special interview with these lads.

Dialling It Back to That Golden Era of Punk Rock

The Saints. These guys had their own take on rock music. They pretty much invented what we now know as punk rock. They were, loud, fast and known to inspire mayhem.
Purchase Options
Available for iOS / Android
About Live Loud
Live Loud Magazine is the original music magazine app for the punk & hard rock lovers.

Whether you're into skate punk or grunge, love live music & can't miss a gig then Live Loud is your mag!

Join your community now!
Category: Dance, Lifestyle, Music, Travel & Destinations, Entertainment
Publisher: Live Loud
Published: Monthly
Language: English
Compatibility: iOS / Android
Peek Inside
Tap images to enlarge...
About The Publisher
Live Loud Magazine is more than a music mag: it's your guide to a rad way of life. Punk is: the personal expression of uniqueness that comes from the... read more

Past Issues
Tap below for more from Live Loud