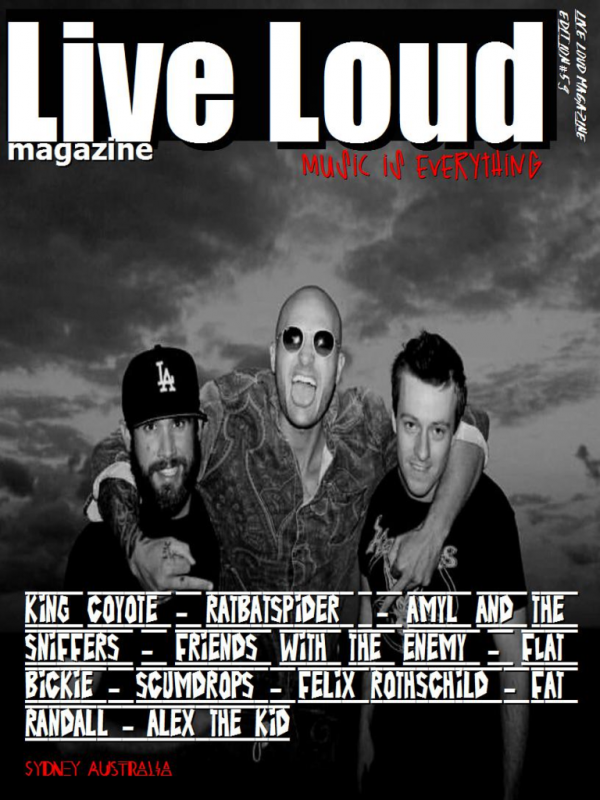 Purchase Options
Available for iOS / Android
In This Issue
Flat Bickie

Byron Bay own Flat Bickie. An emerging and exciting new 5-piece punk-rock/grunge outfit. Their hard hitting drums, riffs and lead solos combine "whoahs" and anthamic melodies all pull together for an energetic live performance not to be missed. FB's debut EP "Pissing in to the wind" is available online now and what a piece! Well done guys, it is absolutely wicked. Here's the review by S. Verras.

Friends With The Enemy

Friends with the Enemy punk rock band has started fast out the gate in 2009. Hailing from the Gold Coast in Australia, they recorded their first album, New World Disorder in 2010 then went to America to play with such punk rock bands as Guttermouth and Versus the World.

KING COYOTE

KING COYOTE ARE A SOLID, THREE PIECE ROCK AND ROLL BAND WHO PLAY A FULL ORIGINAL SET WITH OLD SCHOOL VOCALS AND A VAMPED UP STAGE PRESENCE. SOLID LYRICS AND SOUND ARE TEAMED WITH CHARGING DRUMS AND GUITAR THAT GETS PEOPLE ON THE FLOOR. We interviewed these legends.

RatBatSpider

A long time ago, in a galaxy far...well this galaxy, actually... A rogue meteor smashed into the angry red planet, hurtling our anti-hero through the cosmos. For decades it floated, until one day it latched on to a satellite returning to what appeared to be a rather cranky, blue planet. Upon arriving on Earth, to blend into its alien surroundings, it split into 3 humanoid forms. They chose the names Chris Rat, Jack Bat, and Doug Spider, and set about their fiendish scheme to transform this planet into New Mars.

Scumdrops

Scumdrops is a 3-piece DIY garage/punk band from Newcastle, Australia. Playing surf-pop ballads to dirty punk rock trash, they bring a fast paced performance wherever they go. Influenced by their hometown, Newcastle, many of their songs express the highs and lows of living in the bizarre surf city.

Felix Rothschild

This month, we look again into the digital world of art. It is so incredibly beautiful and fascinating that we cannot stop looking at these truly amazing pieces of art!
Purchase Options
Available for iOS / Android
About Live Loud
Live Loud Magazine is the original music magazine app for the punk & hard rock lovers.

Whether you're into skate punk or grunge, love live music & can't miss a gig then Live Loud is your mag!

Join your community now!
Category: Dance, Lifestyle, Music, Travel & Destinations, Entertainment
Publisher: Live Loud
Published: Monthly
Language: English
Compatibility: iOS / Android
Peek Inside
Tap images to enlarge...
About The Publisher
Live Loud Magazine is more than a music mag: it's your guide to a rad way of life. Punk is: the personal expression of uniqueness that comes from the... read more

Past Issues
Tap below for more from Live Loud