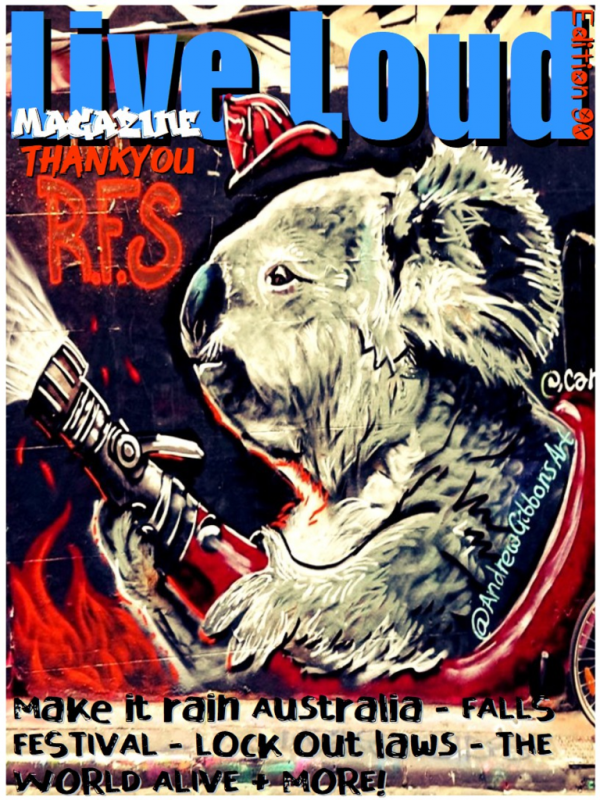 Purchase Options
Available for iOS / Android
In This Issue
Make it rain Australia and stay Gold!

Heart warming movement when all the Aussie bands came together organizing charity event to help our firies and charities, well done!! This will make you proud to be Australian.

Sydney's lock out laws

We learnt how to live with the lock out laws over the years but have they really worked? We look at the damage they've done to so many businesses and live music..... Finally they're gone, it's now time to celebrate and bring our city back to life!

Falls Festival 2019

Sam, Simon & Kush were in Byron bay where they had a ball! Lucky bastards!

The Word Alive

Releasing their new EP: It is simply magnificent!

Music & the Evolution of Tattoos

How did you end up with a tatt of your favourite bands? We go through the most rock tattoos you've probably seen a million time.

Skateboarding at the Tokyo Olympics

All the pros from around the world have now qualified and everybody is ready to rock. What to expect?
Purchase Options
Available for iOS / Android
About Live Loud
Live Loud Magazine is the original music magazine app for the punk & hard rock lovers.

Whether you're into skate punk or grunge, love live music & can't miss a gig then Live Loud is your mag!

Join your community now!
Category: Dance, Lifestyle, Music, Travel & Destinations, Entertainment
Publisher: Live Loud
Published: Monthly
Language: English
Compatibility: iOS / Android
Peek Inside
Tap images to enlarge...
About The Publisher
Live Loud Magazine is more than a music mag: it's your guide to a rad way of life. Punk is: the personal expression of uniqueness that comes from the... read more

Past Issues
Tap below for more from Live Loud