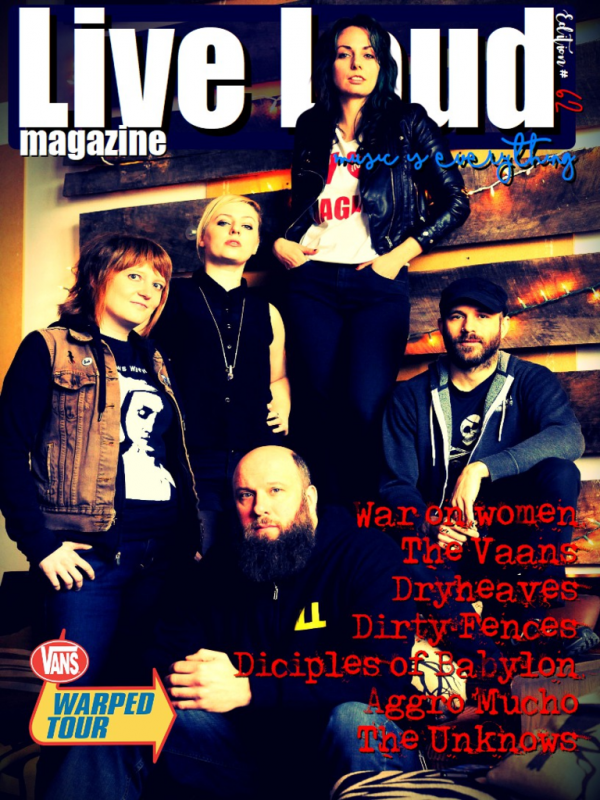 Purchase Options
Available for iOS / Android
In This Issue
Disciples of Babylon

Probably one of the most anticipated albums of 2017 is The Rise & Fall of Babylon by the international Rock band Disciples of Babylon. With Ramon Blanco strumming on the guitar, Gui Bodi on the bass, Chris Toeller on the drums, and Eric Knight the lead singer, prepare yourself for the most exciting journey through love, struggles, injustice, truth, and real life stuff. This album is an absolute masterpiece!

The Unknowns

Energetic up and comers, The Unknowns are breathing new life into rocknroll with their raw rockn- roll sound and attitude. With the love for the music the band loves "the feeling playing live gigs gives us and the freedom to express whatever we want". They're just naturals.

WAR ON WOMEN

War On Women is a co-ed feminist hardcore-punk band. Formed in Baltimore, MD in 2011, W.O.W. use driving riffs and in your face vocals that attack the listener both sonically and lyrically, penning catchy and confrontational songs that touch on rape culture, street harassment, the gender wage gap, transphobia, and other vitally pertinent social issues. We interviewed Shawna Potter.

Dirty Fences

Brooklyn's Dirty Fences often refer to themselves as a gang. And that mentality is evident in every meaty riff and perfectly executed harmony. The music evokes the excitement of early American rock and punk acts such as Red Kross, The MC5, and Johnny Thunders, while showing an obsession with early KISS and Motley Crüe through the lense of The Dictators and Ramones, but without being precious about their roots.

Vans Warped Tour

The recent success of the Vans Warped Tour stop in Mexico is a very promising point to look into. It suggests that there is a great chance for the tour to expand in 2018 to other countries. In particular, it could potentially expand to where it would return to Australia among other places that the festival has not been to in a while.
Purchase Options
Available for iOS / Android
About Live Loud
Live Loud Magazine is the original music magazine app for the punk & hard rock lovers.

Whether you're into skate punk or grunge, love live music & can't miss a gig then Live Loud is your mag!

Join your community now!
Category: Dance, Lifestyle, Music, Travel & Destinations, Entertainment
Publisher: Live Loud
Published: Monthly
Language: English
Compatibility: iOS / Android
Peek Inside
Tap images to enlarge...
About The Publisher
Live Loud Magazine is more than a music mag: it's your guide to a rad way of life. Punk is: the personal expression of uniqueness that comes from the... read more

Past Issues
Tap below for more from Live Loud