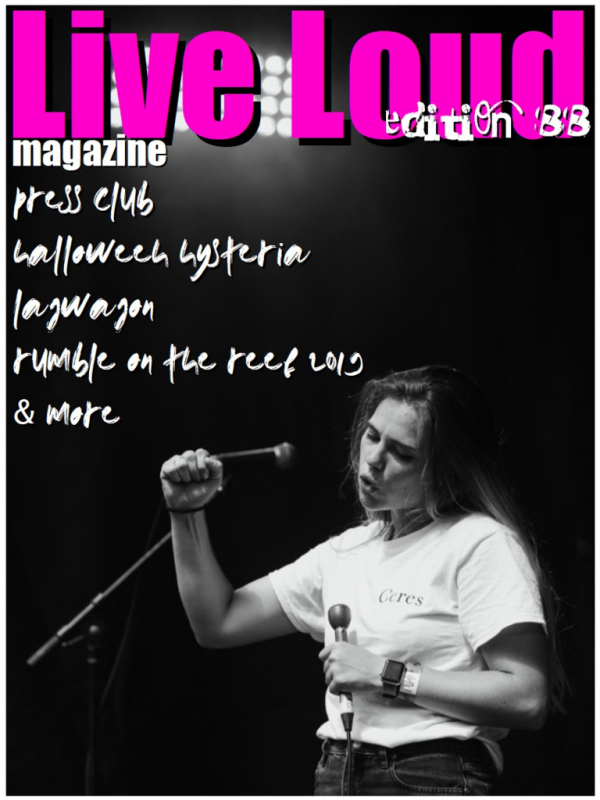 Purchase Options
Available for iOS / Android
In This Issue
The Meteoric Rise of Press club

We're looking at what this amazing punk band has achieved! They are simply unstoppable.

Halloween Hysteria 2019

Simon was at this festival in Brisbane and caught up with the Jet Boys + many more!!

Lagwagon Railer

Album review of the latest Lagwagon. It will put a smile on your face guaranteed.

2019 Rumble on the Reef

This QLD skate competition was very impressive and we think it will become massive. Daniel was there for us.

Mental Cavity

Releasing a new single Neuro Siege, you can expect a promising EP from the Canberra metal Kings.

Harroway

Sydney's metalcore five piece Harroway have blasted on the scene with their debut single "Shine".
Purchase Options
Available for iOS / Android
About Live Loud
Live Loud Magazine is the original music magazine app for the punk & hard rock lovers.

Whether you're into skate punk or grunge, love live music & can't miss a gig then Live Loud is your mag!

Join your community now!
Category: Dance, Lifestyle, Music, Travel & Destinations, Entertainment
Publisher: Live Loud
Published: Monthly
Language: English
Compatibility: iOS / Android
Peek Inside
Tap images to enlarge...
About The Publisher
Live Loud Magazine is more than a music mag: it's your guide to a rad way of life. Punk is: the personal expression of uniqueness that comes from the... read more

Past Issues
Tap below for more from Live Loud