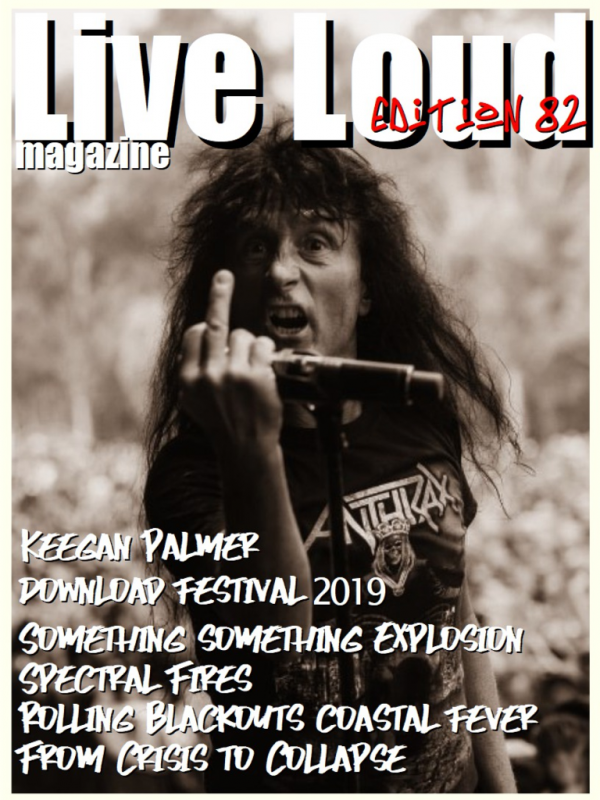 Purchase Options
Available for iOS / Android
In This Issue
Keegan Palmer: The Skate Phenomenon Taking the World by Storm

Keegan Palmer is a skating wunderkind from the Gold coast (AUS) who has been stupefying skaters who are decades older than him. This kid is a natural and will defy any expectations. Watch what he can do, truly amazing.

Download Festival 2019: What went down

The most anticipated music festival of the year covered by Pearl Mantjie. From Sum 41 to Anthrax, Pearl takes us back to this explosive festival where she indulged a little too much….

NoraStone's new release, Forever Endeavor

We look at NoraStone's new absolutely wicked new Album!

One In The Chamber

Having released their debut studio EP, I've Got Something To Say..., on September 22nd, 2018, One In The Chamber has been compared to the likes of Led Zeppelin, Mötley Crüe, Soundgarden, The Red Hot Chili Peppers, Queens Of The Stone Age, and Guns N Roses, among others.

Something Something Explosion: Putting Toowoomba on the Map!

Why would anyone be interested in Toowoomba to begin with? That's where I had my first encounter with Something Something Explosion. The band has an eclectic sound that appeals to a wide range of tastes. Something Something Explosion is probably the best thing to come out of Woombie recently.

L7 Release New Album 'Scatter The Rats'

The first L7 album in 20 years, Scatter the Rats embodies everything that made the band so iconic in the first place - the distortion-heavy riffs and head-banging rhythms, sludgy grooves and indelible melodies.

Spectral Fires: Bringing Down the Fire and Fury in Punk

Just when you think you heard em all, all the wanna-be-punk bands and garage rockers thinking they are the next best thing to come out from wherever the hell they came from, one band just sneaks through.

Rolling Blackouts Coastal Fever: Bright Spots in A Dark World

Who would have thought that the Melbourne-based indie rock quintet would be touring the US and Canada, and gracing stages like Coachella with their own special brand of 70s power pop and 80s college rock infused sound.

From Crisis To Collapse step up their game with new EP

From Crisis to Collapse is one band that calls humanity to itself to be more aware of the world, the environment and to question… to always question.

Super Crown World Championships: A demonstration of what 2020 might look like

You can tell that the Tokyo 2020 Olympic Games are going to be awesome. The Skateboarding world is superstoked and preparing itself for the best show in the world.
Purchase Options
Available for iOS / Android
About Live Loud
Live Loud Magazine is the original music magazine app for the punk & hard rock lovers.

Whether you're into skate punk or grunge, love live music & can't miss a gig then Live Loud is your mag!

Join your community now!
Category: Dance, Lifestyle, Music, Travel & Destinations, Entertainment
Publisher: Live Loud
Published: Monthly
Language: English
Compatibility: iOS / Android
Peek Inside
Tap images to enlarge...
About The Publisher
Live Loud Magazine is more than a music mag: it's your guide to a rad way of life. Punk is: the personal expression of uniqueness that comes from the... read more

Past Issues
Tap below for more from Live Loud