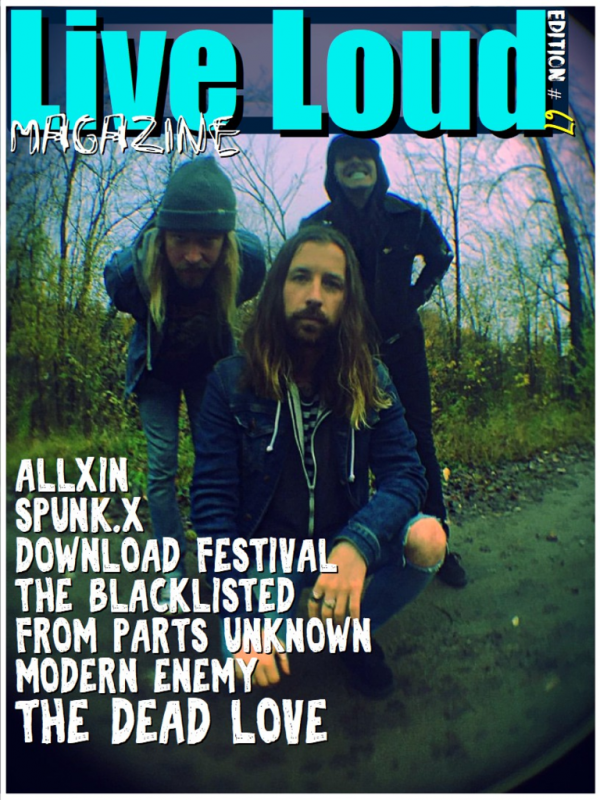 Purchase Options
Available for iOS / Android
In This Issue
The Blacklisted

From Fremantle WA, The Blacklisted are producing some amazing material. With the release of their debut single "The Cops won't find you" the band is said to be refreshing to a lot of music lovers with their wicked riff.

Modern Enemy

If you're a lover of hardcore punk then Modern Enemy in the band for you. For those out there that aren't fans, haven't found the right band in this genre, Modern Enemy is the group that will get you hooked.

The dead love is Loud (and Lively Too)

Wrapping up a whirlwind of a tour that closed in Sydney, Australia at Frankie's Pizza House, The Dead Love proved that they have the stamina and the style to bring a new wave of grunge music to the world. We interviewed them in Sydney.

From Parts Unknown: Unknown: Making Music With a Sound of Their Own

Listening to From Parts Unknown is like taking a fast ride through several music genres and picking up bits and pieces along the way. The end result is an original style that combines the sounds of metal, rock, punk, ska, rockabilly, and even a little of 80's emo infused pop.

Download festival Melbourne

Awesome music and amazing vibes are promised with the Download festival in Melbourne, Australia. This event is being held at Flemington Racecourse on March 24th. Download in the UK has been a popular event since 2013 and Melbourne are trying to recreate this popularity on home turf.

Spunk.x

Only doing my job. Spunk is an amazing street artist from Brazil. He has dedicated himself to graffiti since he was 18 but only at 21 did he saw graffiti stencil as the best way to express his ideas. Inmate by nature, he puts social criticism in ironic and sometimes aggressive ways in the roles (and walls).
Purchase Options
Available for iOS / Android
About Live Loud
Live Loud Magazine is the original music magazine app for the punk & hard rock lovers.

Whether you're into skate punk or grunge, love live music & can't miss a gig then Live Loud is your mag!

Join your community now!
Category: Dance, Lifestyle, Music, Travel & Destinations, Entertainment
Publisher: Live Loud
Published: Monthly
Language: English
Compatibility: iOS / Android
Peek Inside
Tap images to enlarge...
About The Publisher
Live Loud Magazine is more than a music mag: it's your guide to a rad way of life. Punk is: the personal expression of uniqueness that comes from the... read more

Past Issues
Tap below for more from Live Loud