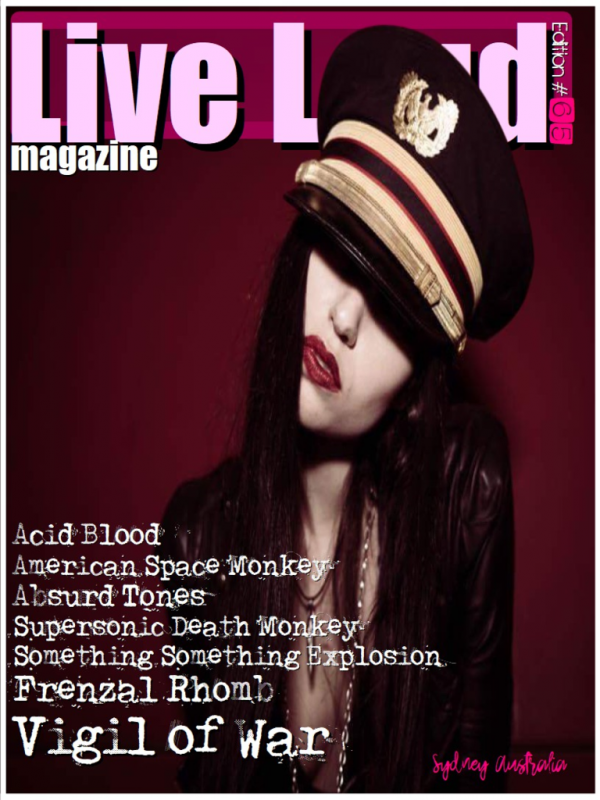 Purchase Options
Available for iOS / Android
In This Issue
Vigil of War + Interview

Introducing: the sensational Alicia Vigil and her band Vigil of War. The latest metal sensation to hit the music scene is Vigil of War, an inspiringly loud band fronted by the model and musician Alicia Vigil. Following in the footsteps of other bands such as Therion which also offer unearthly female vocals with a darkly gothic feel to them, Vigil of War is an excellent listening choice for all punks and lovers of rock seeking something beautifully messy, and explosively noisy.

Frenzal Rhomb

Back in the mire of the early nineties, from somewhere beneath a pile of wallet chains and cut-off army pants Frenzal Rhomb emerged, their white suburban fingers clutching onto goon casks and bucket bongs and other appropriate paraphernalia. Frenzal Rhomb have made a new album.

Supersonic Death Monkey

The unlikely savior of old school, heavy metal tinged, Rock n' Roll, has been growing in a little rehearsal studio in Derbyshire. This past summer, the explosive three piece ruckus rock band, SuperSonic Death Monkey, slipped the lock, escaped their cage, and took to stages all across the U.K. to showcase their dynamic, energetic, battle hardened, hard rock sound.

American Space Monkey

You may have heard one of their tunes on the radio but never quite knew who was playing? Bang!!! American Space Monkey is an aggressive band from Vancouver BC Canada, whose combined Punk and Metal influences blend together into a unique version of stonery sludgy doomy rock(-y)?

Absurd Tones

Founded in 2011 as the brainchild of lead vocalist Bubba Juarez, Absurd Tones included drummer Jonny Mendoza and a few other close friends. With the goal of writing and performing music that encompassed all musical influences of the members.
Purchase Options
Available for iOS / Android
About Live Loud
Live Loud Magazine is the original music magazine app for the punk & hard rock lovers.

Whether you're into skate punk or grunge, love live music & can't miss a gig then Live Loud is your mag!

Join your community now!
Category: Dance, Lifestyle, Music, Travel & Destinations, Entertainment
Publisher: Live Loud
Published: Monthly
Language: English
Compatibility: iOS / Android
Peek Inside
Tap images to enlarge...
About The Publisher
Live Loud Magazine is more than a music mag: it's your guide to a rad way of life. Punk is: the personal expression of uniqueness that comes from the... read more

Past Issues
Tap below for more from Live Loud