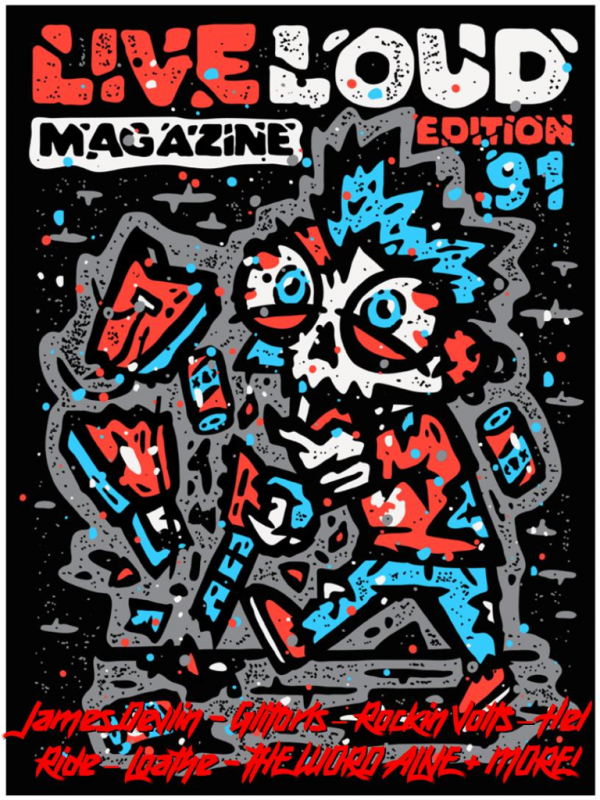 Purchase Options
Available for iOS / Android
In This Issue
James Devlin

This Australian legend has designed our monthly cover. (Thank you James!) James is starting designing again recently but not too long ago, he has worked with some of the biggest punk bands in the world! Pretty amazing, we'r quite stocked to be working with him. He will be designing our merchandise this year.

Glitoris

Their new EP is absolutely brilliant and they're planning an Australian tour. Really exciting news for all their fans out there and if you don't know them, you're missing out big time so have a listen!

Rockin Volts

We've reviewed this seriously promising band. (if you're an AC/DC fan, you're in for a treat!) These lads deliver some great content and we're looking forward to their new EP which will be released soon.

Hell Ride Helsinki

We're also looking at this great skate gig in Helsinki which will become one of the biggest skate event in Europe and perhaps in the world. A 3 day events where skaters from all over the world gather to celebrate skateboarding!

The Word Alive

No need to introduce them to anyone I would imagine. Their new EP is absolutely magnificent, Steve Morrison has reviewed it and gives us his verdict.

Loathe

Heavy Metal straight out of Liverpool (UK), this band has greatly evolved with their second album I Let It In and It Took Everything.
Purchase Options
Available for iOS / Android
About Live Loud
Live Loud Magazine is the original music magazine app for the punk & hard rock lovers.

Whether you're into skate punk or grunge, love live music & can't miss a gig then Live Loud is your mag!

Join your community now!
Category: Dance, Lifestyle, Music, Travel & Destinations, Entertainment
Publisher: Live Loud
Published: Monthly
Language: English
Compatibility: iOS / Android
Peek Inside
Tap images to enlarge...
About The Publisher
Live Loud Magazine is more than a music mag: it's your guide to a rad way of life. Punk is: the personal expression of uniqueness that comes from the... read more

Past Issues
Tap below for more from Live Loud