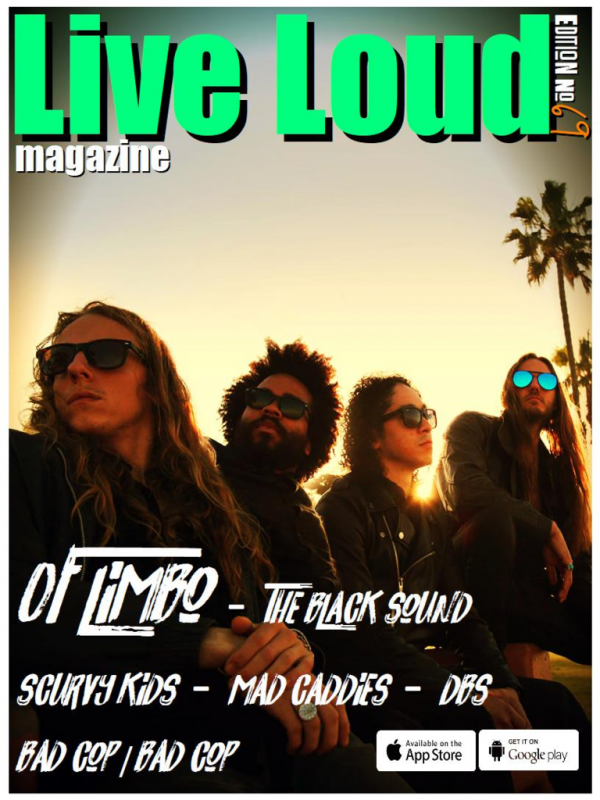 Purchase Options
Available for iOS / Android
In This Issue
Psychedelic Doom from Southern California: The Black Sound.

Based in Southern California and excited to share their awesome music with the world, the Black Sound are a band with style. The band is made up of Brant Austin of guitar, Mark Austin on bass, Gustavo D Ablo on drums and Aaron Z'tlep playing guitar and singing vocals!

Bad Cop / Bad Cop New Album "Warriors"By

Bad Cop / Bad Cop are a band that are pretty much the definition of awesomeness. They take inspiration from bands like SWAT, NARCS, Law Breakers and Patrol Cars. If you are pissed off at America since the election of Trump, share the pain of the girls as they give their opinion in this political track with a big 'F*** You' in Warriors!

Mad Caddies

They are known for how well they perform live, vibing together and involving fans in the show too! Even though they have influences from all different music genres, they are hard to pin down to one in particular, which is something that is really cool

LA Old School Punk Rock

They play music all around the world and take inspiration from bands including The Ramones, Misfits and Motorhead. Scurvy Kids are an old school punk rock band based in LA, they have been playing together for around 10 years now.

OF LIMBO Nicotine EP review

Bringing you their latest EP, OF LIMBO have officially released nicotine and it's a record that rocks pretty hard. Jake Davies lets loose with his gravelly yet smooth voice as he sings about that girl that everybody wants.

Death by Stereo

Members have come and gone over the years but as of 2018, Ethan is joined by Dan Palmer on guitar, JP Gericke on guitar, Robert Madrigal on bass and Mike Cambra on drums. A love of music is what makes them want to share their own music with the world.
Purchase Options
Available for iOS / Android
About Live Loud
Live Loud Magazine is the original music magazine app for the punk & hard rock lovers.

Whether you're into skate punk or grunge, love live music & can't miss a gig then Live Loud is your mag!

Join your community now!
Category: Dance, Lifestyle, Music, Travel & Destinations, Entertainment
Publisher: Live Loud
Published: Monthly
Language: English
Compatibility: iOS / Android
Peek Inside
Tap images to enlarge...
About The Publisher
Live Loud Magazine is more than a music mag: it's your guide to a rad way of life. Punk is: the personal expression of uniqueness that comes from the... read more

Past Issues
Tap below for more from Live Loud