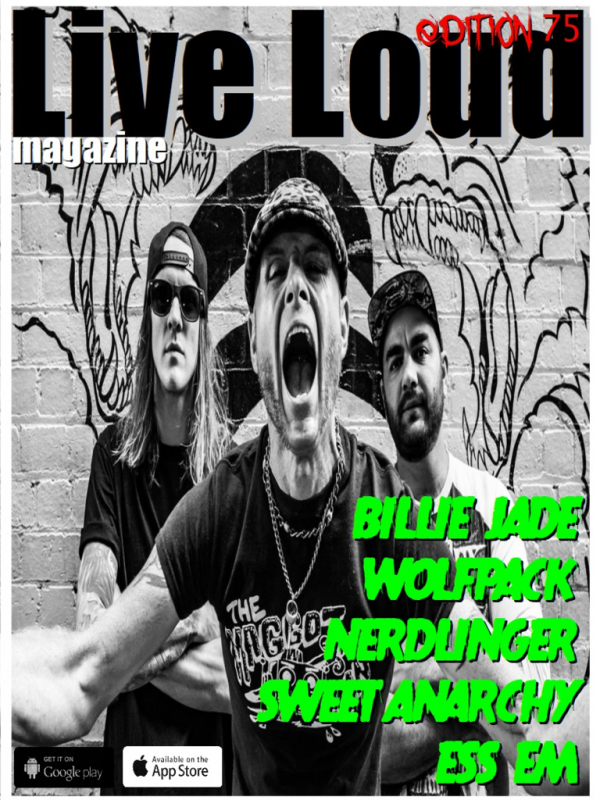 Purchase Options
Available for iOS / Android
In This Issue
Sweet Anarchy

You may not have heard of them before but Sweet Anarchy has been rocking Adelaide since 2012. The band is made up of brothers Tyler and Dylan and their friend, Kristie. The band won the Triple M's music jury choice in the 2013 'Big Day Out's Headspace Stage'.

A Super fan's ode to Nerdlinger

True confession time: It has been a while since I loved a band enough to follow them around. Fact is, I didn't think I could be that kind of fan, but Nerdlinger has touched the stalker in me. My quite fascination with this Sydney based punk rock band is bordering on obsession.

Wolfpack: Rebels With A Cause

The Melbourne based, 3 member trash punk band is not only known for their fantastic music and high energy live performances but, they are the first not for profit band in Australia.

Billie Jade Queen Of The Damned

Horror Metal has been a male dominated music genre, but Billie Jade has emerged as the antithesis. She challenges stereotypes and pushes the envelope.

Ess Em: Blazing New Trails

So who is Ess Em? If you follow the punk rock scene in Sydney you may have run into Ess Em as a member of some band. Ess Em is a five foot bundle of attitude with crazy hair - reminds me a little of Cindy Lauper in her younger days. She is the ultimate badass punk rocker who plays a mean piano.
Purchase Options
Available for iOS / Android
About Live Loud
Live Loud Magazine is the original music magazine app for the punk & hard rock lovers.

Whether you're into skate punk or grunge, love live music & can't miss a gig then Live Loud is your mag!

Join your community now!
Category: Dance, Lifestyle, Music, Travel & Destinations, Entertainment
Publisher: Live Loud
Published: Monthly
Language: English
Compatibility: iOS / Android
Peek Inside
Tap images to enlarge...
About The Publisher
Live Loud Magazine is more than a music mag: it's your guide to a rad way of life. Punk is: the personal expression of uniqueness that comes from the... read more

Past Issues
Tap below for more from Live Loud