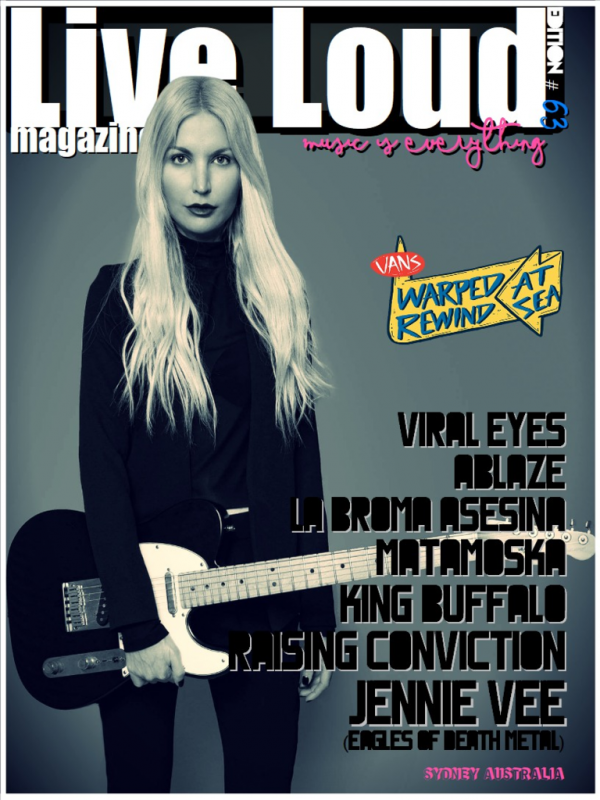 Purchase Options
Available for iOS / Android
In This Issue
Ablaze

Ablaze was originally formed back in 2010 by a group of mates, fresh out of high school and wanting to belt out some riff driven Aussie pub rock'n'roll. After jamming on covers for a couple of weeks, the young blokes quickly became bored of playing other people's songs, and the desire to write originals grew quickly.

Jennie Vee EP review + Interview

Jennie Vee has announced a new EP, Suffer, last September 22nd via WaxRomantix Records. A followup to her debut LP, Spying, it was written and recorded after she spent the spring of 2015 playing bass with Courtney Love (on the Endless Summer Tour with Lana Del Rey.) Since then, Jennie has supported bands like Echo & The Bunnymen, Manic Street Preachers, and The Darkness and has become a member of Eagles of Death Metal. We caught with Jennie for an interview

Raising Conviction

A group of longtime friends with the hopes of one day playing together, Peter Roberto (Pitt) and Vinicius Suicinív, (respectively guitar and bass), met again in late 2013 coming off the breaking up or indefinite hiatus of their respective bands.

Matamoska

Hailing from Montebello, California, Matamoska! was created during the infancy stage of the ghetto ska-punk movement, in November 2000. The band is comprised of musicians with a very diverse taste in music, which leads to their signature mixes of sounds, influences, and even language (both Spanish and English). In 2017, the band had its newest release Skalluminati. The album debuted during a month long summer tour with Las Vegas ska band Be Like Max. The album brings about more diversity to the Matamoska!

Vans Warped Rewind at Sea Festival

If there are two phrases I never thought I'd see put together in one sentence, it's "pop punk party" and "cruise ship to Mexico." But that's the premise behind the Vans Warped Rewind at Sea Festival. It's a four-day cruise between New Orleans and Cozumel, Mexico. And on board the cruise ship will be 2,300 music fans, looking to spend some quality time with some of their favorite pop-punk bands.
Purchase Options
Available for iOS / Android
About Live Loud
Live Loud Magazine is the original music magazine app for the punk & hard rock lovers.

Whether you're into skate punk or grunge, love live music & can't miss a gig then Live Loud is your mag!

Join your community now!
Category: Dance, Lifestyle, Music, Travel & Destinations, Entertainment
Publisher: Live Loud
Published: Monthly
Language: English
Compatibility: iOS / Android
Peek Inside
Tap images to enlarge...
About The Publisher
Live Loud Magazine is more than a music mag: it's your guide to a rad way of life. Punk is: the personal expression of uniqueness that comes from the... read more

Past Issues
Tap below for more from Live Loud