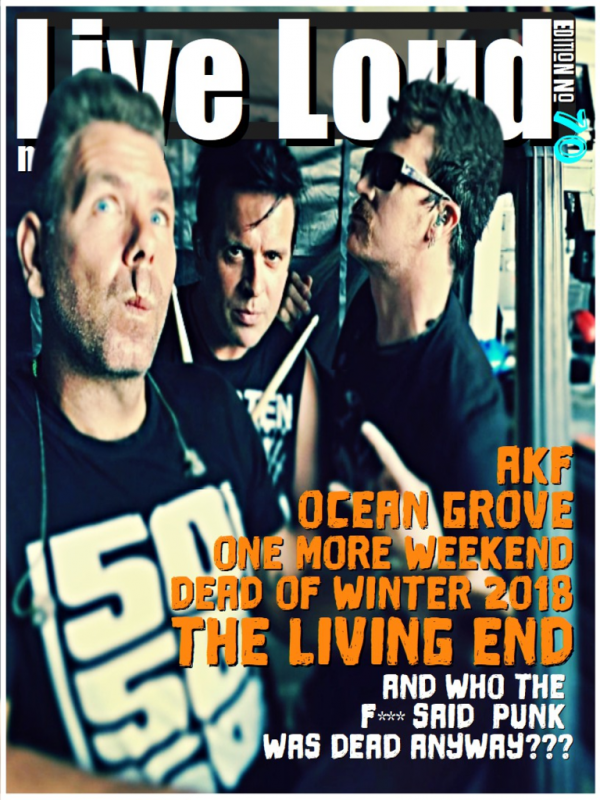 Purchase Options
Available for iOS / Android
In This Issue
One More Weekend

If you are looking for an awesome new band to listen to who will absolutely blow your socks off, look no further than One More Weekend. Playing punk songs that people all around Australia fall in love with, this band is definitely one to watch out for.

Ocean Grove

The Ocean Grove are a friggin amazingly loud rock band with personalities to match. These guys don't do what's expected of them, they play the music they love and basically don't give a f*** about what the critics think.

Dead of Winter festival

It is back with a vengeance and the Dead of Winter festival 2018 promises to be more epic than ever before. The action packed event is impressive but the best thing about Dead of Winter festival is without a doubt, the electric atmosphere amongst stoked fans.

AKF

Punk rock can be referred to as a wave or more like a revolution the past years. Punk has proved to people that it has now been ingrained in the culture, what people at some point thought was impossible about punk rock is now possible.

Who the F*** said punk was dead anyway?!!?

If you thought punk in Aus. was done and dusted, you've made the biggest fucking mistake of your life. It's time to get some of the raw facts.
Purchase Options
Available for iOS / Android
About Live Loud
Live Loud Magazine is the original music magazine app for the punk & hard rock lovers.

Whether you're into skate punk or grunge, love live music & can't miss a gig then Live Loud is your mag!

Join your community now!
Category: Dance, Lifestyle, Music, Travel & Destinations, Entertainment
Publisher: Live Loud
Published: Monthly
Language: English
Compatibility: iOS / Android
Peek Inside
Tap images to enlarge...
About The Publisher
Live Loud Magazine is more than a music mag: it's your guide to a rad way of life. Punk is: the personal expression of uniqueness that comes from the... read more

Past Issues
Tap below for more from Live Loud