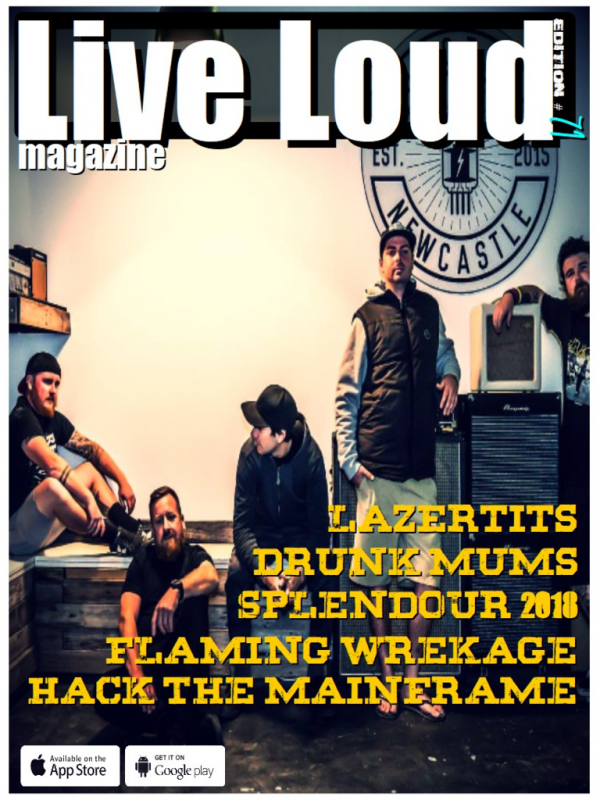 Purchase Options
Available for iOS / Android
In This Issue
Flaming Wrekage

Their energy is infectious, blinding, relieving and quite frankly out of this world. The band is now an emerging force in Australia's heavy metal scene and in the words of Yoda, may the force be with them'.

Drunk Mums

They describe their genre as Catchy ass hard rockin punk'. Their style and quirkiness have been influenced by some of the coolest rock bands in Australia and across the globe such as Aussie Rock, 77 Punk, Garage Punk, Slack Rock, Rhythm, and Blues.

Lazertits

They wrote, recorded and released their first album;- 'Not Punk, Per Se' 100% independently on the 3rd of November 2017. It's a fiery lash-out for a need of freedom and individuality. The album begins with a manic thrasher Yeah Nah' which slings hard truths at patriarchy.

Splendour In The Grass

Splendour in The Grass is well known for showcasing bands that are a little less known but amazing nonetheless. In short, they are always broadcasting "the ones to watch" and perhaps bands that wouldn't have much attention if it not be for the event.

Hack The Mainframe

Their down to earth attitudes is backed up with their pure skills on stage and a night at one of their shows is guaranteed to leave you awestruck, for all the right reasons. While they take inspiration from other punk bands past and present, Hack The Mainframe are definitely one of a kind with their insane riffs, fast drumming and seamless vocals.
Purchase Options
Available for iOS / Android
About Live Loud
Live Loud Magazine is the original music magazine app for the punk & hard rock lovers.

Whether you're into skate punk or grunge, love live music & can't miss a gig then Live Loud is your mag!

Join your community now!
Category: Dance, Lifestyle, Music, Travel & Destinations, Entertainment
Publisher: Live Loud
Published: Monthly
Language: English
Compatibility: iOS / Android
Peek Inside
Tap images to enlarge...
About The Publisher
Live Loud Magazine is more than a music mag: it's your guide to a rad way of life. Punk is: the personal expression of uniqueness that comes from the... read more

Past Issues
Tap below for more from Live Loud