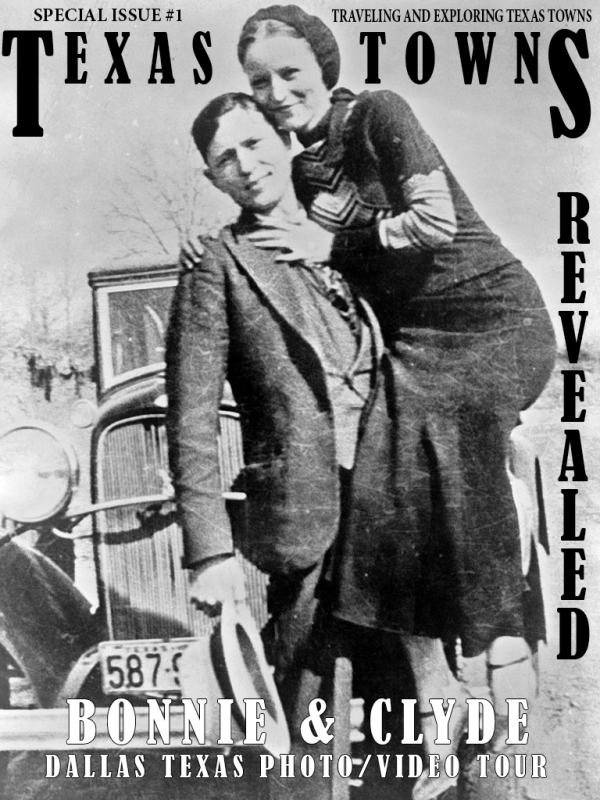 Purchase Options
Available for iOS / Android
In This Issue
BONNIE & CLYDE

A Dallas Texas Photo/video Tour. This issue is included free in subscription.

BONNIE

BONNIE ELIZABETH PARKER; October 1, 1910 – May 23, 1934; Born in 1910 in Rowena, Texas; Her father, Charles Parker (1884-1914) died when Bonnie was 4 years old and Bonnie's mother, Emma Krause Parker (Sept 15, 1886 - Sept 21, 1944), moved with her three children to Dallas.

CLYDE

CLYDE CHESTNUT BARROW; March 24, 1909 – May 23, 1934; Born in 1909 on a farm near Telico, Texas; His father was Henry Basil Barrow (1874–1957) and his mother was Cumie T. Walker (1874–1943). In 1922, Clyde's father, Henry, moved the family to Dallas.
Purchase Options
Available for iOS / Android
About Texas Towns Revealed Magazine
Texas Towns Revealed Magazine – Traveling and exploring Texas towns to bring you the information you need to know for small town travel. Read about the town's history, facts, events, services, points of interest and view special videos provided inside the magazine. Published quarterly (4 issues per year).
Category: Arts & Photography, Family & Home, Lifestyle, Travel & Destinations
Publisher: Texas Towns Revealed Magazine
Published:
Language: English
Compatibility: iOS / Android
Peek Inside
Tap images to enlarge...
About The Publisher
Welcome to Texas Towns Revealed, the magazine that highlights the history and intrigue of Texas towns. This magazine started somewhat unexpectedly... read more
Past Issues
Tap below for more from Texas Towns Revealed Magazine