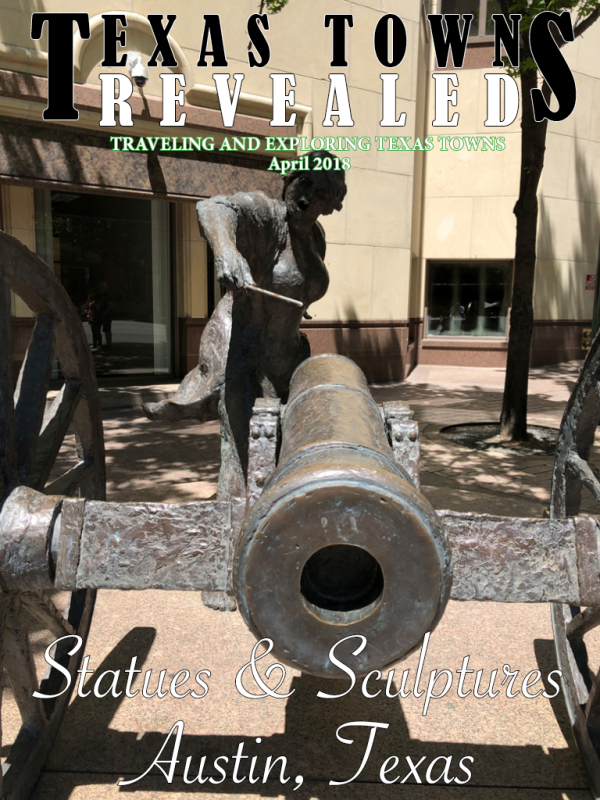 In This Issue
Statues & Sculptures: Austin, Texas

Cesar Chavez, The Torchbearers, George Washington, Littlefield Fountain, Jefferson Davis, Mike A. Myers, Martin Luther King Jr, San Lorenzo Monument, Barbara Jordan, Diana the Huntress, Spanish-American War, The Ten Commandments, Statue of Liberty Replica, Texas Pioneer Woman, Tribute to Texas Schoolchildren, Vietnam Veterans Monument, Hood's Texas Brigade Monument, Confederate Soldiers Monument, Volunteer Firemen, Tejano Monument, African American History Memorial, Texas Cowboy, Terry's Texas Rangers, Heroes of the Alamo, Sam Houston / Stephen F. Austin, Willie Nelson, Angelina Eberly, Stevie Ray Vaughan, George Washington Carver Museum, Go Forth Sculpture (Eddie Dixon), Juneteenth Memorial Sculpture, Goddess of Liberty, Philosopher's Rock.
About Texas Towns Revealed Magazine
Texas Towns Revealed Magazine – Traveling and exploring Texas towns to bring you the information you need to know for small town travel. Read about the town's history, facts, events, services, points of interest and view special videos provided inside the magazine. Published quarterly (4 issues per year).
Category: Arts & Photography, Family & Home, Lifestyle, Travel & Destinations
Publisher: Texas Towns Revealed Magazine
Published:
Language: English
Compatibility: iOS / Android
Peek Inside
Tap images to enlarge...
About The Publisher
Welcome to Texas Towns Revealed, the magazine that highlights the history and intrigue of Texas towns. This magazine started somewhat unexpectedly... read more
Past Issues
Tap below for more from Texas Towns Revealed Magazine