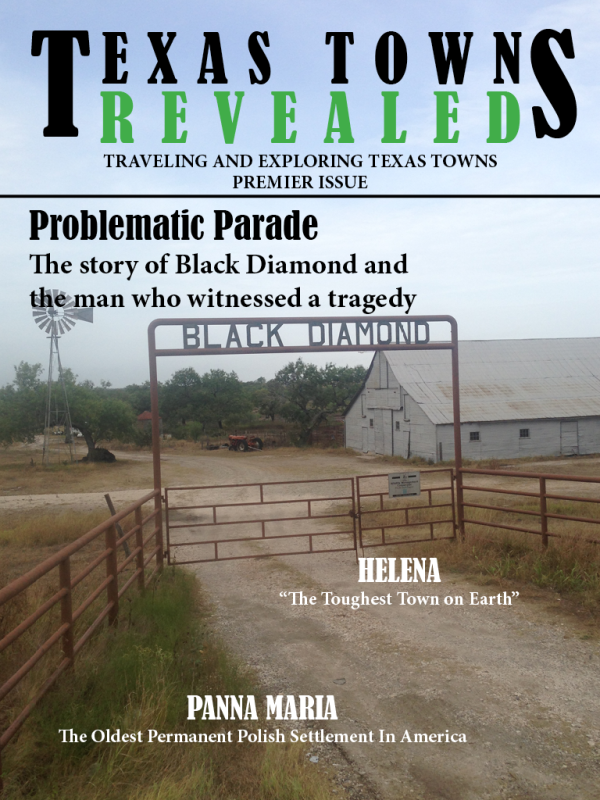 In This Issue
PANNA MARIA TEXAS

The oldest permanent Polish settlement in America. Settled by 100 Polish families who came to Texas to gain economic, political and religious freedom. Led by Father Leopold Moczygemba.

HELENA TEXAS

Founded in 1852 on San Antonio River by Thomas Ruckman, a graduate of Princeton, and Lewis Owings, later first governor of Arizona Territory. Once known as "The toughest town on earth".

BLACK DIAMOND

The story of the elephant named Black Diamond and the man who witnessed a tragedy in 1929.
About Texas Towns Revealed Magazine
Texas Towns Revealed Magazine – Traveling and exploring Texas towns to bring you the information you need to know for small town travel. Read about the town's history, facts, events, services, points of interest and view special videos provided inside the magazine. Published quarterly (4 issues per year).
Category: Arts & Photography, Family & Home, Lifestyle, Travel & Destinations
Publisher: Texas Towns Revealed Magazine
Published:
Language: English
Compatibility: iOS / Android
Peek Inside
Tap images to enlarge...
About The Publisher
Welcome to Texas Towns Revealed, the magazine that highlights the history and intrigue of Texas towns. This magazine started somewhat unexpectedly... read more
Past Issues
Tap below for more from Texas Towns Revealed Magazine