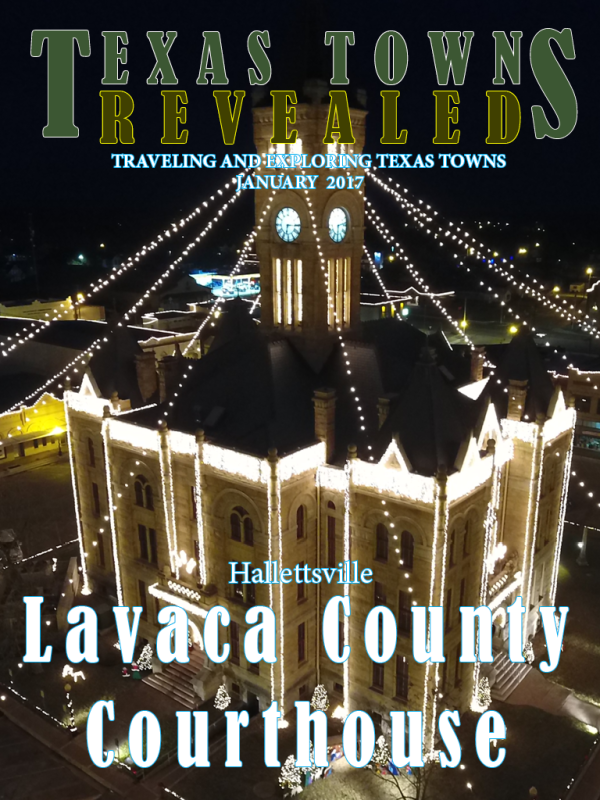 In This Issue
Lavaca County Courthouse - Hallettsville, Texas

Every Christmas season the courthouse is brightened with thousands of lights from Thanksgiving weekend to the New Year. Christmas lights on the courthouse began after World War I. In the beginning lights hung from the courthouse steeple in the shape of a large Christmas tree. Over the years, more lights have been added and in 1997, a "Festival of Lights" event was added on Thanksgiving weekend to celebrate the season.
About Texas Towns Revealed Magazine
Texas Towns Revealed Magazine – Traveling and exploring Texas towns to bring you the information you need to know for small town travel. Read about the town's history, facts, events, services, points of interest and view special videos provided inside the magazine. Published quarterly (4 issues per year).
Category: Arts & Photography, Family & Home, Lifestyle, Travel & Destinations
Publisher: Texas Towns Revealed Magazine
Published:
Language: English
Compatibility: iOS / Android
Peek Inside
Tap images to enlarge...
About The Publisher
Welcome to Texas Towns Revealed, the magazine that highlights the history and intrigue of Texas towns. This magazine started somewhat unexpectedly... read more
Past Issues
Tap below for more from Texas Towns Revealed Magazine