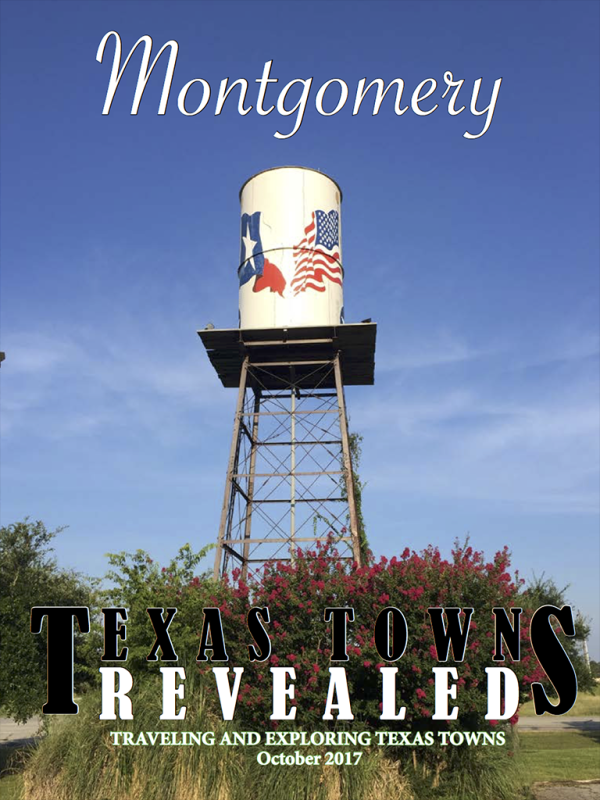 In This Issue
MONTGOMERY TEXAS

Montgomery traces its roots to 1823, when Andrew J. Montgomery established a trading post a few miles to the west of the current town site. On December 14, 1837, the town named for Andrew Montgomery became he first county seat of Montgomery County, the third county formed under the Republic of Texas. The county originally extended from the Brazos River to the Trinity. Owen and Margaret Montgomery Shannon, colonists with Stephen F. Austin, had settled on their grant of land and traded with the Indians. In July of 1837, an ad in the Telegraph and Texas Register advertised the sale of lots in the newly organized town of Montgomery. The articles stated that a new county was expected to be created and Montgomery, from its central position, would be selected as the seat of justice. Montgomery remained the seat of government until 1889, when the records were moved to Conroe.
About Texas Towns Revealed Magazine
Texas Towns Revealed Magazine – Traveling and exploring Texas towns to bring you the information you need to know for small town travel. Read about the town's history, facts, events, services, points of interest and view special videos provided inside the magazine. Published quarterly (4 issues per year).
Category: Arts & Photography, Family & Home, Lifestyle, Travel & Destinations
Publisher: Texas Towns Revealed Magazine
Published:
Language: English
Compatibility: iOS / Android
Peek Inside
Tap images to enlarge...
About The Publisher
Welcome to Texas Towns Revealed, the magazine that highlights the history and intrigue of Texas towns. This magazine started somewhat unexpectedly... read more
Past Issues
Tap below for more from Texas Towns Revealed Magazine