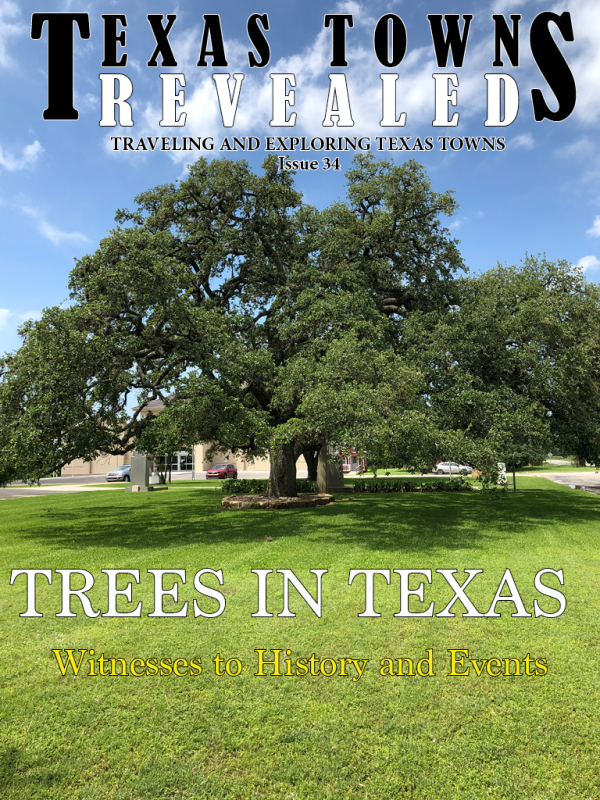 In This Issue
Famous Tree in Texas

See the famous trees in Texas. Witness to history and events. Includes the largest live oak tree. Panna Maria Oaks (Panna Maria, Texas); Baptist Oak (Goliad, Texas); Cart War Oak (Goliad, Texas); Goliad Anacua (Goliad, Texas); Urrea Oaks (Refugio, Texas); Goose Island Oak (Goose Island State Park); Whipping Oak (Seguin, Texas); Ranger Oak (Seguin, Texas); Ben Milam Cypress (San Antonio, Texas); Church Oak (New Braunfels, Texas); Kissing Oak (San Marcos, Texas); Kyle Hanging Tree (Kyle, Texas); Battle Oaks (University of Texas Campus); Treaty Oak (Austin, Texas); Matrimonial Oak (San Saba, Texas); Center Oak (Center, Texas); Columbus Live Oak (Columbus, Texas); Hallettsville Hanging Tree (Hallettsville, Texas); Muster Oak (La Grange, Texas); Old Evergreen Tree (Lincoln, Texas); La Bahia Pecan (Washington on the Brazos State Park); Borden Oak (Galveston, Texas); Century Tree (Texas A&M University Campus); San Bernard Live Oak (San Bernard National Wildlife Refuge).
About Texas Towns Revealed Magazine
Texas Towns Revealed Magazine – Traveling and exploring Texas towns to bring you the information you need to know for small town travel. Read about the town's history, facts, events, services, points of interest and view special videos provided inside the magazine. Published quarterly (4 issues per year).
Category: Arts & Photography, Family & Home, Lifestyle, Travel & Destinations
Publisher: Texas Towns Revealed Magazine
Published:
Language: English
Compatibility: iOS / Android
Peek Inside
Tap images to enlarge...
About The Publisher
Welcome to Texas Towns Revealed, the magazine that highlights the history and intrigue of Texas towns. This magazine started somewhat unexpectedly... read more
Past Issues
Tap below for more from Texas Towns Revealed Magazine