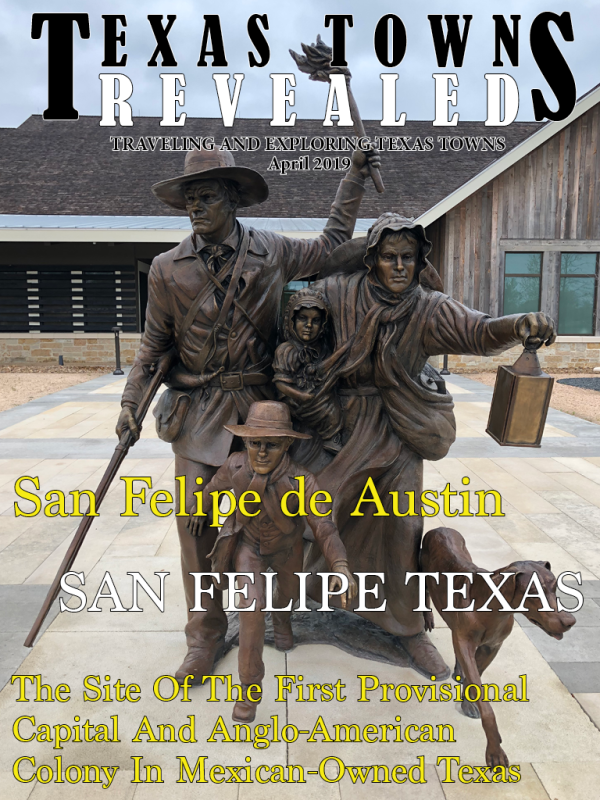 In This Issue
San Felipe de Austin State Historic Site

In 1823, Stephen F. Austin secured land grant contracts with the Mexican government and, in 1924, brought 300 families (the "Old 300") to form a new colony known as San Felipe de Austin. Austin's residence in the town was the only home he ever owned in Texas. By 1828 the community comprised a population of about 200, three general stores, two taverns, a hotel, a blacksmith shop, and some forty or fifty log cabins. Ten of the inhabitants were Hispanic, and the rest were of American or European origin; males outnumbered females ten to one. When the Alamo fell, Sam Houston's army retreated toward San Felipe. Houston ordered residents to burn the town to the ground on March 29, 1836. The town's militia defended the river crossing against Santa Anna's invading army. Weeks later, Texas independence was won at the Battle of San Jacinto. San Felipe de Austin's prominence lasted only 13 years (1823–1836), nearly every significant character and event of this era of Texas history is connected to this town. William Barrett Travis operated a law office in San Felipe. Also here were Gail Borden, Josiah H. Bell, James B. Miller, Noah Smithwick and Horatio Chriesman. Gail Borden ran the town's newspaper before inventing condensed milk. Angelina Eberly ran one of the town's taverns before moving to Austin where she earned a statue on Congress Avenue. San Felipe de Austin State Historic Site has a new state-of-the-art museum. Grand opening was April 27, 2018. The museum has computer-generated interactive displays and many displays containing artifacts. An outdoor area has a layout of the numbered lots illustrated on the floor. Also there is a table containing buildings on the numbered lots representing the town. This map plaza lays out the town as it stood in 1836. San Felipe de Austin is on FM 1458 a couple of miles north of I-10 near Sealy.
About Texas Towns Revealed Magazine
Texas Towns Revealed Magazine – Traveling and exploring Texas towns to bring you the information you need to know for small town travel. Read about the town's history, facts, events, services, points of interest and view special videos provided inside the magazine. Published quarterly (4 issues per year).
Category: Arts & Photography, Family & Home, Lifestyle, Travel & Destinations
Publisher: Texas Towns Revealed Magazine
Published:
Language: English
Compatibility: iOS / Android
Peek Inside
Tap images to enlarge...
About The Publisher
Welcome to Texas Towns Revealed, the magazine that highlights the history and intrigue of Texas towns. This magazine started somewhat unexpectedly... read more
Past Issues
Tap below for more from Texas Towns Revealed Magazine