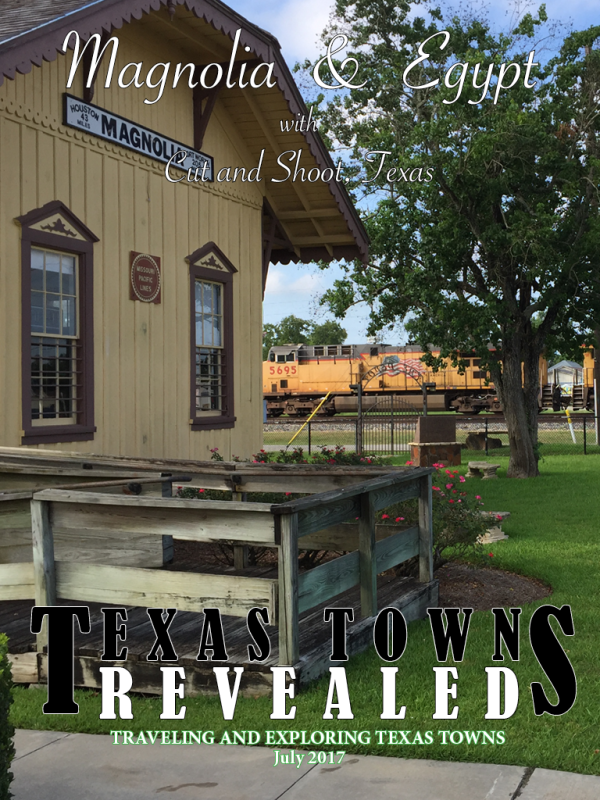 In This Issue
MAGNOLIA TEXAS

Magnolia, Texas resides on the Missouri Pacific Line, twenty miles southwest of Conroe, Texas in southwestern Montgomery County. It started as a small settlement town in the late 1840s, and was known as Mink's Prairie. Over the years as the settlement grew, it became a stop on the International-Great Northern Railroad line and was renamed Melton after Jim Melton, who was a large landowner in the county. However, the United States Post Office confused Melton and Milton, so the town of Melton was renamed Magnolia and became an official town in 1903.

EGYPT TEXAS (WHARTON COUNTY)

Egypt, Texas is the oldest town in Wharton County, located eleven miles northwest of the city of Wharton. The town is located on what was John C. Clark's league in 1822, and Robert Kuykendall and Thomas Rabb owned the surrounding area. This trio was part of the Austin colony settlers and were noted Indian fighters. The area along the Colorado River was ripe with Indians, and these three men were part of the campaign to take over the land. Their fight was successful and the area became a settlement in 1829, when Eli Mercer established a plantation and ferry. The town of Egypt was originally called Mercer's Crossing, but after a severe drought, the town-supplied corn to the surrounding settlements and people began to refer to Mercer's Crossing as Egypt, eventually taking over as the official name. Egypt has been an agricultural center since it's founding, because of the fertile soil that the town was built on. The town still produces crops to this day, and was one of the first to produce sugarcane in Texas.

EGYPT TEXAS (MONTGOMERY COUNTY)

Egypt was located near the junction of Farm roads 1488 and 2978 (Honea-Egypt Rd) in southwestern Montgomery County. Some of the few reminders of Egypt, are the Honea-Egypt Rd and a nearby road named Egypt Ln. Egypt was settled by George Bell Madeley around 1846 when he purchased 320 acres of land. Madeley had a grist mill, vineyard, orchard, wine press, cotton gin, and herds of cattle. The services for his grist mill were paid for with corn instead of money. During a time of drought and crop failures, the farmers went to purchase corn and seed from Madeley. It is said that the name "Egypt" came from the farmers referring to the bible passages of Jacob's family going to Egypt to buy corn during a time of famine. Eventually, Madeley and his wife were known in the county as the King and Queen of Egypt.

CUT AND SHOOT TEXAS

Cut and Shoot, Texas is a small town in the northeastern part of Montgomery County. Located 6 miles east of Conroe on TX 105. It is most notable for the story behind it's name, as well as Miss America 1983, Debra Maffett, and heavyweight boxer Roy Harris both calling Cut and Shoot their hometown. Roy Harris fought Floyd Patterson for the heavyweight title in 1958.
About Texas Towns Revealed Magazine
Texas Towns Revealed Magazine – Traveling and exploring Texas towns to bring you the information you need to know for small town travel. Read about the town's history, facts, events, services, points of interest and view special videos provided inside the magazine. Published quarterly (4 issues per year).
Category: Arts & Photography, Family & Home, Lifestyle, Travel & Destinations
Publisher: Texas Towns Revealed Magazine
Published:
Language: English
Compatibility: iOS / Android
Peek Inside
Tap images to enlarge...
About The Publisher
Welcome to Texas Towns Revealed, the magazine that highlights the history and intrigue of Texas towns. This magazine started somewhat unexpectedly... read more
Past Issues
Tap below for more from Texas Towns Revealed Magazine