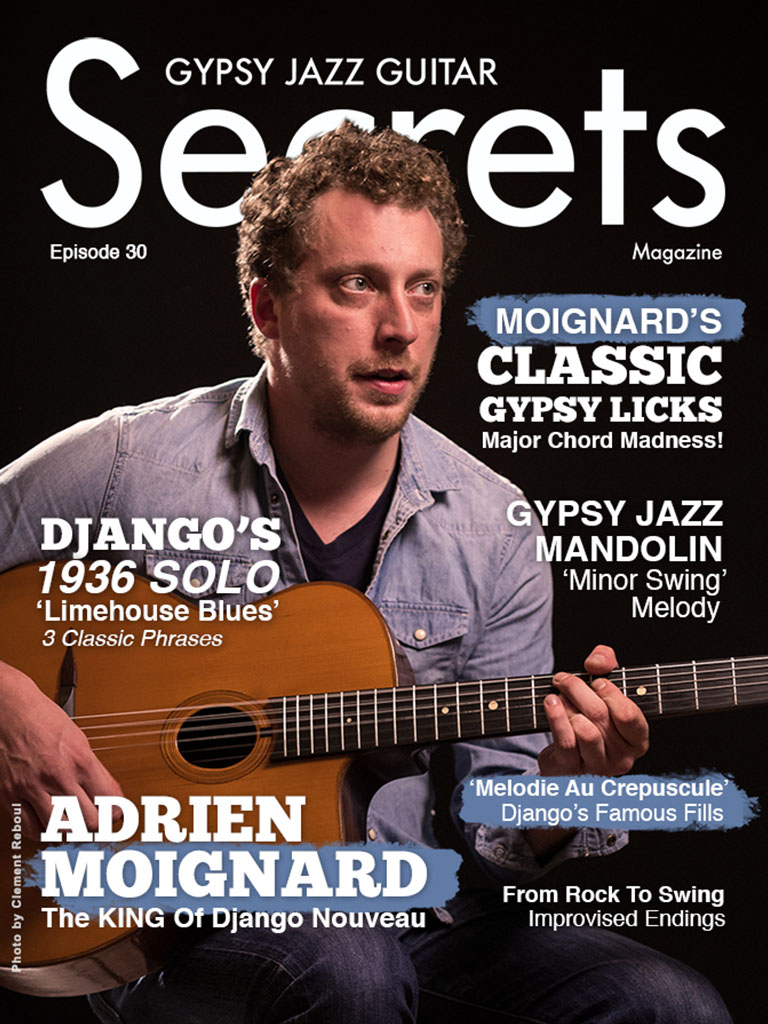 Purchase Options
Available for iOS / Android
In This Issue
Adrien Moignard - The King Of Django Nouveau

Adrien Moignard is undoubtedly the king of the super-cool Parisian nouveau gypsy jazz scene, and for many, a guitar guru. I remember seeing him jamming all night at the Django Reinhardt festival in Samois-Sur Seine back in the early 00's and thinking...woah this kid is special.

Moignard's Classic Gypsy Licks - Video Lesson

"In this new 3-part series gypsy jazz guitar guru Adrien Moignard shares some of his favorite licks which he uses to stand out above all other players on the scene today!"

Gypsy Jazz Endings - Video Lesson

Welcome to the fifth in my series of lessons for Gypsy Jazz Secrets looking at some quick and easy ideas you can add to make your playing sound more authentic in this style.

Serge and Ezeckiel 'Them There Eyes'

Here's a wonderful and charming version of the popular gypsy jazz standard 'Them There Eyes' performed by the father & son team of Serge & Ezeckiel Krief.

Melodie Au Crepuscule' Django's Famous Fills - Video Lesson

In this lesson you'll learn the famous fills which Django added behind Stephane Grappelli when they recorded 'Melodie Au Crepuscule'. They have become synonymous with the tune itself and you'll be expected to play them when you're at a jam!

Django's 1936 Solo 'Limehouse Blues' - Video Lesson

Get that authentic Django sound into your solos by going back to the roots. In Part-3 of a new & exciting series Yaakov Hoter will teach you some of Django's classic phrases from his famous 1936 solo on 'Limehouse Blues'.

Gypsy Jazz Mandolin 'Minor Swing' - Video Lesson

Welcome to the 1st in a brand new 3-part series where you'll be learning how to play the classic gypsy jazz jam tune 'Minor Swing' on Mandolin!
Purchase Options
Available for iOS / Android
About Gypsy Jazz Guitar Secrets
Explore The World Of Gypsy Jazz With Live Performances, Cutting Edge Lessons, And Exclusive Music And Interviews.
Gypsy Jazz Secrets Magazine is a digital-only, multimedia magazine featuring gypsy jazz articles and interviews with guitarists from around the world, as well as guitar lessons and performances.
Category: Education, Lifestyle, Music, Entertainment
Publisher: Gypsy Jazz Guitar Secrets
Published: Monthly
Language: English
Compatibility: iOS / Android
Past Issues
Tap below for more from Gypsy Jazz Guitar Secrets