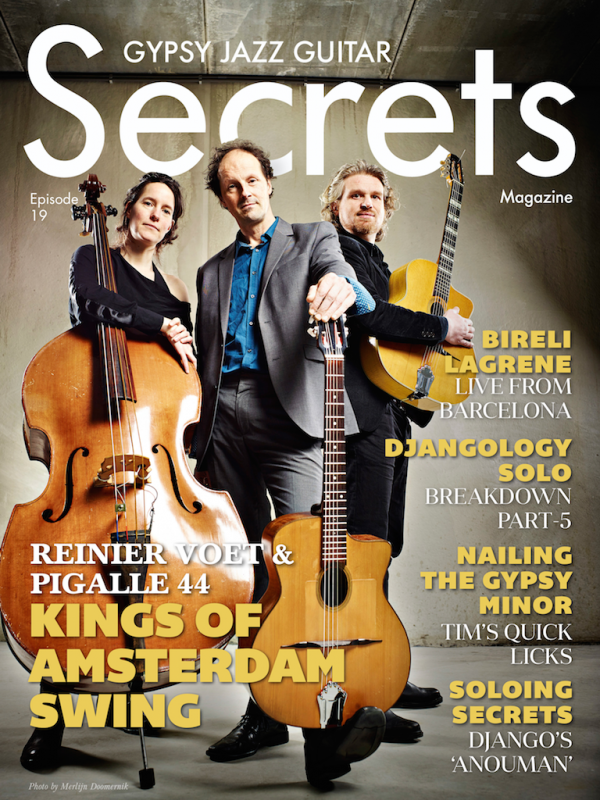 Purchase Options
Available for iOS / Android
In This Issue
"Kings Of Amsterdam Swing Reinier Voet & Pigalle44"

I've known Reinier Voet and Jan Brouwer ever since I first moved to Amsterdam many years ago and have always looked up to them as experts in all things gypsy jazz and Django Reinhardt related. Jan played rhythm guitar in my trio in the late 90s and has always been one of my favorite guys to make music with. Reinier, somewhat a dark horse in the gypsy jazz world has always impressed me with his guitar playing. Whenever I would check him out over the years in the bars and cafe's of Amsterdam he would surprise me with his beautiful, sensitive touch and deep understanding of Django's music. We also share a love of Bireli Lagrene and have enjoyed many a beer raving about guitars and music till deep into the night.

"Rhythm Lesson Variations On 'Minor Swing'"

In this lesson we look at some hip ways to make the chord changes to 'Minor Swing' more interesting.

Nailing The Gypsy Minor

This V-i lick in A minor starts on an eighth note from the previous bar and follows an ascending diminished arpeggio. A triplet embellishment reverses the direction of the lick to descend through two octaves through A minor and finish on the low open A note.

Gypsy Dreamers

A conversation on the past, present and future of gypsy jazz with Boulou and Elios Ferré and special guest artist Christophe Astolfi. This interview was translated from French to English by Luanne Homzy.

"Soloing Secrets Django's 'Anouman'"

In the mini-issue this month, I showed you 6 D Minor voicings that sound great over the Django Reinhardt composition 'Anouman'. In this lesson I want to show you how to create beautiful solos every time over the changes.

A Strange Gig, One of Those Nights by Irene Ypenburg

About what struck me, touched me, made me laugh or left me in awe while dancing around with my guitar, my camera and my drawing pad in the international world of gypsy jazz.

"Bireli Lagrene Live From Barcelona"

The Django Fest L'H in Barcelona Spain had their fifth and biggest annual festival to date in 2014. Bireli Lagrene - or, simply, 'The Boss' as he's known in gypsy jazz circles - brought his band to Spain to headline and left all in the room spellbound. Lucky for us our man on the ground Patrus 53 was there to capture the magic!

Gypsy Chromatics

Here's how to play some gypsy style chromatics which I love to use in the break of 'Minor Swing'.

Gypsy Style 2-5-1 Licks

Alexander asked me on the Secrets YouTube channel, "How to solo over a 2-5-1 progression in gypsy jazz?" In this lesson I've got two ways to do just that!

Melodic Mastery

Our focus on improvisation in this lesson will be from the point of view of the melody. Playing the melody is an art in itself; the beginning of improvisation was improvisation on the melody. In the history of jazz, there were musicians whose art was playing their own version of a melody. That was their improvisation!

"Djangology Solo Breakdown Part 5"

Here it is, the last two sections of the Djangology solo. By now you have gotten all the parts down, and hopefully up to tempo!
Purchase Options
Available for iOS / Android
About Gypsy Jazz Guitar Secrets
Explore The World Of Gypsy Jazz With Live Performances, Cutting Edge Lessons, And Exclusive Music And Interviews.
Gypsy Jazz Secrets Magazine is a digital-only, multimedia magazine featuring gypsy jazz articles and interviews with guitarists from around the world, as well as guitar lessons and performances.
Category: Education, Lifestyle, Music, Entertainment
Publisher: Gypsy Jazz Guitar Secrets
Published: Monthly
Language: English
Compatibility: iOS / Android
Past Issues
Tap below for more from Gypsy Jazz Guitar Secrets