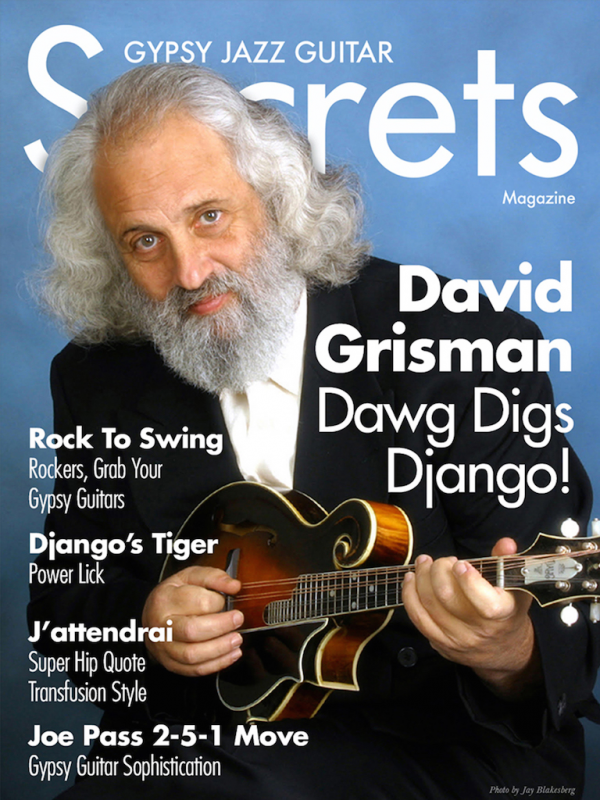 Purchase Options
Available for iOS / Android
In This Issue
David Grisman - Dawg Digs Django!

David Grisman, affectionately named 'Dawg' by the late Jerry Garcia is a living legend of modern day acoustic American music. His virtuosic, inventive mandolin playing and ground breaking original compositions changed the course of folk and bluegrass music making it 'Newgrass' which in turn evolved to simply 'Dawg Music'.

Django's Tiger' Power Lick - Video Lesson

Add the gypsy sound to your solos by learning this power lick on 'Django's Tiger'. New contributor Paul Provosty joins us for Part-1 of his five part series of gypsy licks on Django's Tiger!

Joe Pass 2-5-1 Lick - Video Lesson

Add a touch of class and sophistication to your guitar playing by learning this Joe Pass move.

Django's 'Chez Jaquet' - Samy Daussat and David Gastine

A beautiful & authentic rendition of Django's waltz 'Chez Jaquet'.

From Rock to Swing Part 1 - Video Lesson

"Welcome to my new series of lessons for Gypsy Jazz Secrets designed to get you up and running in this style, particularly if you're coming to this music from a more mainstream rock or blues background."

Walking Bass Line Tips - Video Lesson

"Here's Arnoud Vandenberg's number 1 tip for creating powerful walking bass lines."

Irene's Gypsy Jazz Adventures

While In Italy for music, I decided to spend my afternoon off doing something Un-Djangoish for a change and visit the Etruscan Museum and learn more about this interesting ancient civilization. After having purchased my ticket, the simultaneously angry and bored looking ticket lady pointed at a stairway that led to the basement and snapped: 'Start there'.

'J'attendrai' Super Hip Quote - Video Lesson

In this lesson we're going to learn a classy quote you can use in your solo on J'attendrai.
Purchase Options
Available for iOS / Android
About Gypsy Jazz Guitar Secrets
Explore The World Of Gypsy Jazz With Live Performances, Cutting Edge Lessons, And Exclusive Music And Interviews.
Gypsy Jazz Secrets Magazine is a digital-only, multimedia magazine featuring gypsy jazz articles and interviews with guitarists from around the world, as well as guitar lessons and performances.
Category: Education, Lifestyle, Music, Entertainment
Publisher: Gypsy Jazz Guitar Secrets
Published: Monthly
Language: English
Compatibility: iOS / Android
Past Issues
Tap below for more from Gypsy Jazz Guitar Secrets