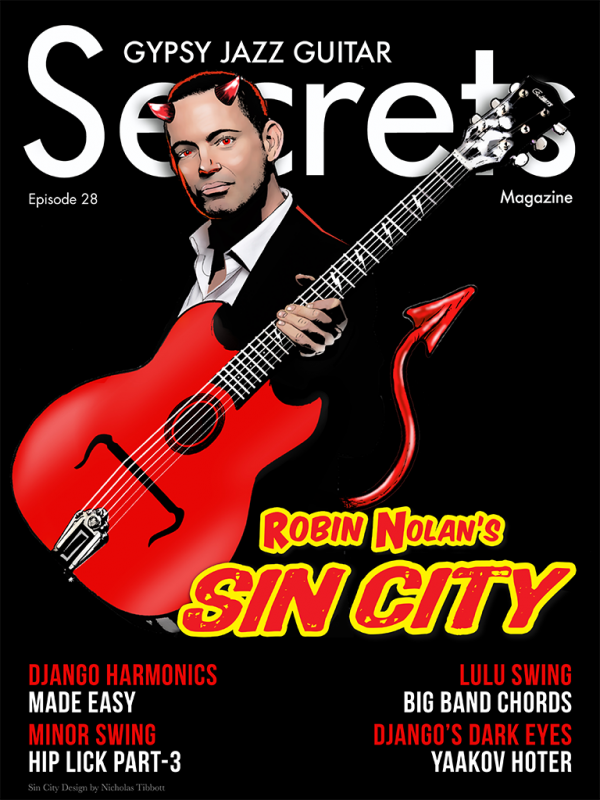 Purchase Options
Available for iOS / Android
In This Issue
Going Down To Sin City

AC/DC - Gypsy Jazz Style? Hell yeah!..... We're going down to SIN CITY!!

Sin City Secrets Revealed - Video Lesson

Robin Nolan reveals how he crafted the ultra-hip gypsy jazz arrangements of AC/DC classics featured on his new album 'Sin City'

Minor Swing Hip Lick - Video Lesson

In this new 3-part series Gunnar Hilmarsson is showing us how to expand our soloing repertoire with hip licks for 'Minor Swing'.

Noe Reine Performance

Young French jazz guitar talent Noe Reine makes magic with his original composition 'One More Time'

From Rock to Swing Part 4 - Video Lesson

Welcome to the fourth in my series of lessons for Gypsy Jazz Secrets looking at some quick and easy ideas you can add to make your playing sound more authentic in this style.

Yaakov Hoter Django Magic Part 1 - Video Lesson

"Get that authentic Django sound into your solos by going back to the roots. In Part-1 of a new & exciting series Yaakov Hoter will teach you some of Django's classic phrases from his famous 1947 'Dark Eyes' solo!"

'Lulu Swing' Big Band Power Chords - Video Lesson

In this lesson you'll learn some groovy 'Big Band' style chordal stabs you can use to get your solo on Lulu Swing rocking!
Purchase Options
Available for iOS / Android
About Gypsy Jazz Guitar Secrets
Explore The World Of Gypsy Jazz With Live Performances, Cutting Edge Lessons, And Exclusive Music And Interviews.
Gypsy Jazz Secrets Magazine is a digital-only, multimedia magazine featuring gypsy jazz articles and interviews with guitarists from around the world, as well as guitar lessons and performances.
Category: Education, Lifestyle, Music, Entertainment
Publisher: Gypsy Jazz Guitar Secrets
Published: Monthly
Language: English
Compatibility: iOS / Android
Past Issues
Tap below for more from Gypsy Jazz Guitar Secrets