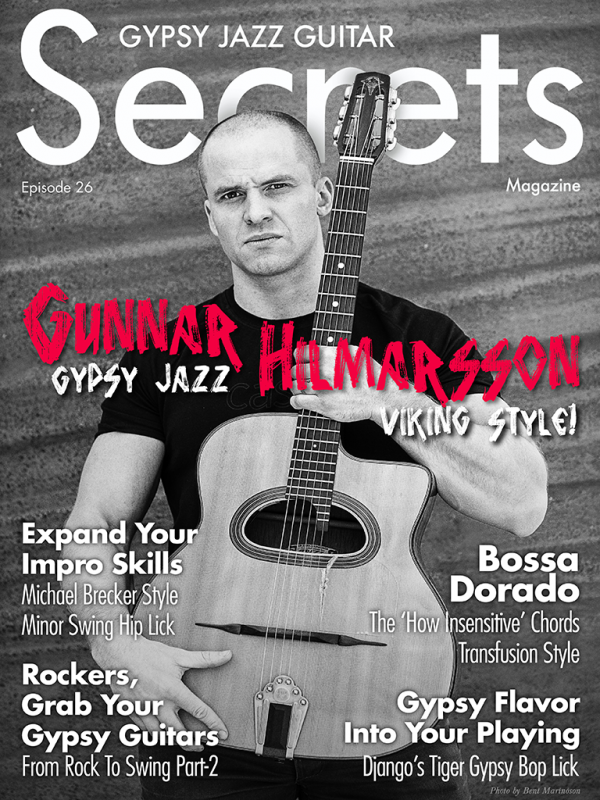 Purchase Options
Available for iOS / Android
In This Issue
Gunnar Hilmarsson - Gypsy Jazz Viking Style

"Iceland's Gunnar Hilmarsson is an awesome guitarist and major talent whose music is certain to inspire you as it does me. I first met him in 1999 when he was only a teenager and I knew straight away that he was a gifted guitarist destined for great things."

Minor Swing Hip Lick - Video Lesson

In this new 3-part series Gunnar Hilmarsson is showing us how to expand our soloing repertoire with hip licks for 'Minor Swing'

Django's Tiger' Gypsy Bop Lick - Video Lesson

Kick off your 'Django's Tiger' solo in style with this ripping gypsy bob lick!

Daphne' - The Ladies Of Gypsy Jazz

Four ladies of gypsy jazz burning on Django Reinhardt & Stephane Grappelli's 'Daphne'!

From Rock to Swing Part 2 - Video Lesson

"Welcome to the second in my series of lessons for 'Gypsy Jazz Guitar Secrets' where we'll look at some quick and easy ideas you can add to your playing make it sound more authentic in this style."

Joseph Joseph' In Two Feel - Video Lesson

"In this lesson bass master Arnoud Vandenberg shows how a simple two feel can be extremely powerful and provide the swinging backbone to any combo."

Irene's Gypsy Jazz Adventures

About what struck me, touched me, made me laugh or left me in awe while dancing around with my guitar, my camera and my drawing pad in the international world of gypsy jazz.

Bossa Dorado - The 'How Insensitive' Chords - Video Lesson

In this lesson you'll learn how to add some real class and cool Brazilian sway to your 'Bossa Dorado' solo.
Purchase Options
Available for iOS / Android
About Gypsy Jazz Guitar Secrets
Explore The World Of Gypsy Jazz With Live Performances, Cutting Edge Lessons, And Exclusive Music And Interviews.
Gypsy Jazz Secrets Magazine is a digital-only, multimedia magazine featuring gypsy jazz articles and interviews with guitarists from around the world, as well as guitar lessons and performances.
Category: Education, Lifestyle, Music, Entertainment
Publisher: Gypsy Jazz Guitar Secrets
Published: Monthly
Language: English
Compatibility: iOS / Android
Past Issues
Tap below for more from Gypsy Jazz Guitar Secrets