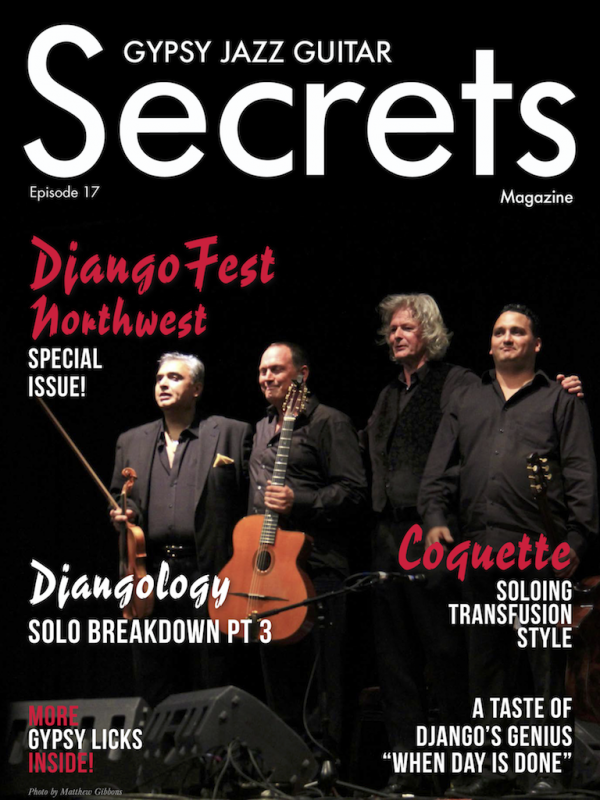 Purchase Options
Available for iOS / Android
In This Issue
"DjangoFest Northwest Gypsy Jazz Mecca Of The West"

"DjangoFest Northwest celebrated its fifteenth year in September and hosted possibly it's best line up to date. Stochelo and Mozes Rosenberg, Florin Nicolescu and Joscho Stephan were just some of the famous gypsy jazz artists joining the festival this year. The attendance was full at all concerts and workshops, and the sleepy village of Langley was transformed into gypsy jazz heaven for the five days of the festival. Presented by Whidbey Island Center For The Arts, DFNW has become the Mecca for gypsy jazz in the USA - if not globally - with it's world class pure and uncommercial line up hosted in one of the most spectacular and beautiful parts of the Pacific Northwest."

Grappelli-Django Camp

In 2010, with the help of Dutch guitarist Reinier Voet (Pigalle 44), I started a new camp in Europe with the aim to teach gypsy jazz and make the style better known. We found a great place, with camping on the grounds and a hotel nearby. 25 students from more than 10 countries took part. My hero, Stéphane Grappelli, lent his name to the camp.

"Djangology Solo Breakdown Part-3"

In this lesson we are going to go over the bridge and the last A section. I split the tab up into two parts. The line Django plays over the bridge is a very fast line, so take your time with it! Try not to obsess too much over this line, it will take a while to get it up to tempo. Be sure to practice it every day for a few weeks, slowly work the tempo up!

""Coquette" - Transfusion Style Part-2"

In Part 1 of 'Coquette' we showed you the 'Wrap Up' video from the Gypsy Jazz Transfusion vault. My brother Kevin and I played a tasty arrangement of this cool tune which incorporated all the lessons we'd learned that month in transfusion.

Tim's Quick Licks

Hi, I'm Tim Robinson and welcome to 'Tim's Quick Licks'. Each month I'll be teaching you a new lick, which will help you on your way to sounding like a gypsy jazz pro.

"Vintage Gypsy Guitar Series 1972 Favino Jazz"

Profiled in this issue is the quintessential French gypsy guitar of the 50's 60's and 70's jazz Manouche revival. Favino guitars have been owned by guitarists such as Robin Nolan, Stochelo Rosenberg, Bireli Lagrene, Serge Krief, Ninnie Garcia, Moreno, Tchan Tchou, Maurice Ferret, Matelot Ferre, Boulou and Elios Ferre and many many more. Jacques Favino started working in Paris at the atelier of Busato and began revising his own designs to form what would later become the famous Favino jazz model.

Django's 'When Day Is Done' Intro

The intro that Django Reinhardt played to his famous recording of 'When Day Is Done' is a stroke of genius. It has since become a standalone piece of music for solo guitar which Yaakov Hoter teaches us in this cool video lesson. It demonstrates a few of Django's famous techniques, like octave playing, sweeping and harmonics. It also ends with a sweet little D major arpeggio that you probably never thought of playing like this. Django was so good at making any old melody his own and giving it his gypsy flair. So much to learn from the master!

"Fest Hop - The Spirit of Langley by Irene Ypenburg"

About what struck me, touched me, made me laugh or left me in awe while dancing around with my guitar, my camera and my drawing pad in the international world of gypsy jazz.

"Shapes & Systems To Build Your Memorable Solos"

Lauren from Switzerland asked me for some shapes and systems that will help him build solos, so in this video I got some solid ideas which can help us do just that. We want to know visually on the fretboard where the key areas for each chord shape lie so we can use these to help us improvise over chord changes. For each chord there are three different places where we can play them and these are the same places we will use to build our solos from.
Purchase Options
Available for iOS / Android
About Gypsy Jazz Guitar Secrets
Explore The World Of Gypsy Jazz With Live Performances, Cutting Edge Lessons, And Exclusive Music And Interviews.
Gypsy Jazz Secrets Magazine is a digital-only, multimedia magazine featuring gypsy jazz articles and interviews with guitarists from around the world, as well as guitar lessons and performances.
Category: Education, Lifestyle, Music, Entertainment
Publisher: Gypsy Jazz Guitar Secrets
Published: Monthly
Language: English
Compatibility: iOS / Android
Past Issues
Tap below for more from Gypsy Jazz Guitar Secrets