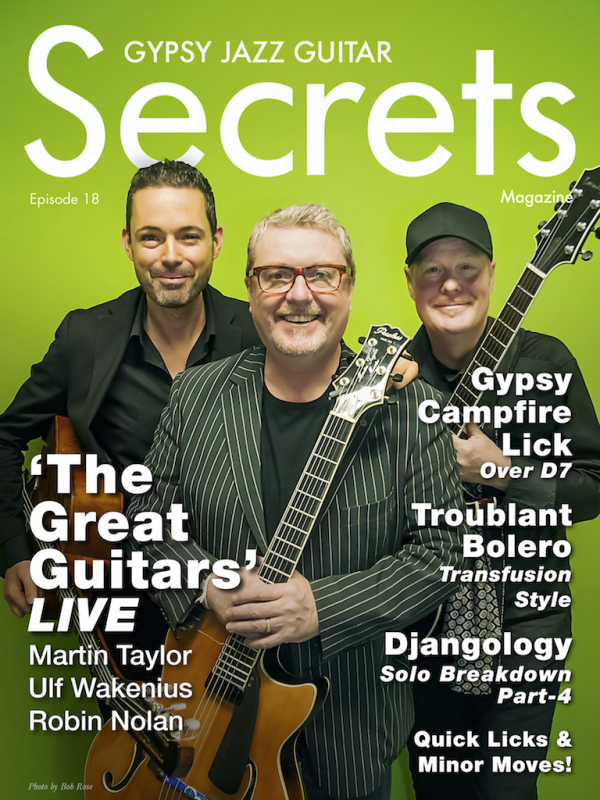 Purchase Options
Available for iOS / Android
In This Issue
The Great Guitars Live

It was an honour for me to be invited by one of my guitar hero's Martin Taylor to join his newly rejuvenated supergroup The Great Guitars.

The Great Guitars - The Interview

Hi, it's Robin here and I'm in Uppsala at the International Guitar Festival and I'm with The Great Guitars. Ulf Wakenius, Martin Taylor and myself. So I'm gonna talk to Martin and ask him about The Great Guitars and the history and why it's come about again now.

Gypsy Campfire Lick

This is a great no nonsense lick you can use over a D7 but of course you can you play it over any dominant 7th chord you like by moving it up or down the fretboard. It's authentic and something you would find many gypsy guitar players playing at the camp.

Vintage Gypsy Guitar Series

Featured in this edition is a look at one of the most innovative guitar making legacy's in Parisian lutherie. In 1925 Joseph Di Mauro (1894-1966) arrived from Catania to Paris to begin producing everything from Banjos, Mandolins, Tenor Guitars and Harp Guitars. Much like other instrument houses of the day such as Busato; they offered affordable and popular styles of instruments. His guitars were most notably played by Baro Ferre.

"Tim's Quick Licks by Tim Robinson"

Hi, I'm Tim Robinson and welcome to 'Tim's Quick Licks'. Each month I'll be teaching you a new lick, which will help you on your way to sounding like a gypsy jazz pro.

"Use your Brain the Lazy Way by Irene Ypenburg"

About what struck me, touched me, made me laugh or left me in awe while dancing around with my guitar, my camera and my drawing pad in the international world of gypsy jazz.

Djangology Solo Breakdown Part 4

In this issue we will be going over the first A section of the second chorus on Djangology. This is my favorite section of the entire solo! The run he starts off with is amazing! He makes it sound so easy, but the runs over this section are rather difficult, so don't forget to take your time with it! Do you recognize the line he plays over the third bar? You've probably heard Stochelo Rosenberg use this lick a few times!

A Visit to the Gypsy Camps

"The chance to visit the Sinti families that have spawned so many of the great Gypsy Jazz musicians is very rare. Thus, when Patrus (of Patrus53.com) presented me with an opportunity to meet the Schäfer and Rosenberg families on our way to the Samois festival this year, I knew I could not turn it down."

""Troublant Bolero" - Transfusion Style Part 2"

In part 1 of 'Troublant Bolero' we showed you the 'Wrap Up' video from the Gypsy Jazz Transfusion vault. My brother Kevin and I played a tasty arrangement of this cool tune which incorporated all the lessons we'd learned that month in Transfusion.
Purchase Options
Available for iOS / Android
About Gypsy Jazz Guitar Secrets
Explore The World Of Gypsy Jazz With Live Performances, Cutting Edge Lessons, And Exclusive Music And Interviews.
Gypsy Jazz Secrets Magazine is a digital-only, multimedia magazine featuring gypsy jazz articles and interviews with guitarists from around the world, as well as guitar lessons and performances.
Category: Education, Lifestyle, Music, Entertainment
Publisher: Gypsy Jazz Guitar Secrets
Published: Monthly
Language: English
Compatibility: iOS / Android
Past Issues
Tap below for more from Gypsy Jazz Guitar Secrets