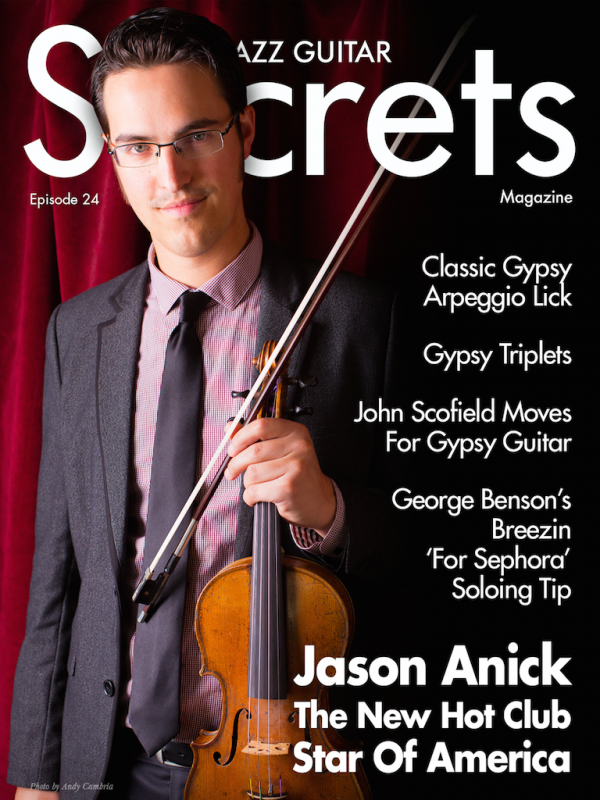 Purchase Options
Available for iOS / Android
In This Issue
Jason Anick - Rhythm Future

Young violin virtuoso Jason Anick is without doubt one of the rising stars in the world of gypsy jazz. His music and teachings are influencing the development and evolution of Django's music and he's one of my favorite players on the scene today.

Dario's Dominant Licks Part 5 - Video Lesson

Here's a ready-to-go hip and bite size dominant lick to get under your fingers.

John Scofield Licks - Video Lesson

John Scofield is one of the most important and original jazz guitarists alive today. He was part of Miles Davis's last band and has influenced just about every living jazz guitarist. His style uses a lot of blues and there's some great ideas and licks we can use to make our gypsy jazz soloing more interesting and diverse.

George Benson's 'Breezin' Quote - Video Lesson

There's nothing cooler than dropping a George Benson quote in your solo. I started using this quote in 'For Sephora' a couple of years ago and often use it to start my solo. It comes from his classic 'Breezin' track and is the guitar lick you hear at the beginning.

Classic Gypsy Arpeggio Lick - Video Lesson

Here's how to play a really useful gypsy arpeggio lick in Am.

Irene's Gypsy Jazz Adventures

It is a sunny early morning in Kathmandu. Nepal has always been in the back of my mind as a blur of yellow, orange and gold, a whiff of incense, snow capped mountains, buddhist chants and green hills. A place I was hoping or trusting to visit once in my life. And now I am actually here, to play at the Nepal Gypsy Jazz Festival.

3 Awesome Quotes on 'Minor Swing' - Video Lesson

In this lesson I'll teach you how to play 3 quotes that will get your 'Minor Swing' solo swinging.
Purchase Options
Available for iOS / Android
About Gypsy Jazz Guitar Secrets
Explore The World Of Gypsy Jazz With Live Performances, Cutting Edge Lessons, And Exclusive Music And Interviews.
Gypsy Jazz Secrets Magazine is a digital-only, multimedia magazine featuring gypsy jazz articles and interviews with guitarists from around the world, as well as guitar lessons and performances.
Category: Education, Lifestyle, Music, Entertainment
Publisher: Gypsy Jazz Guitar Secrets
Published: Monthly
Language: English
Compatibility: iOS / Android
Past Issues
Tap below for more from Gypsy Jazz Guitar Secrets