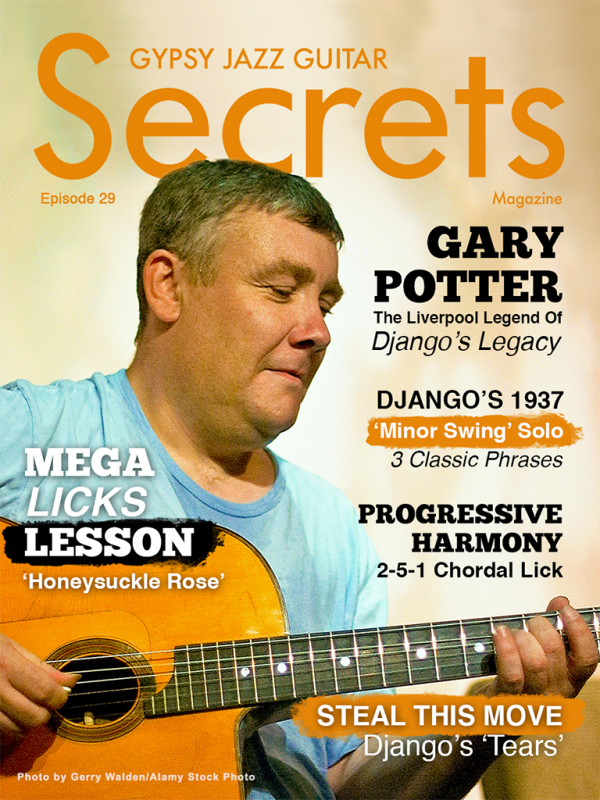 Purchase Options
Available for iOS / Android
In This Issue
Gary Potter - The Interview

Gary Potter's legendary status was kicked off by his appearance in John Jeremy's epic film 'Django Legacy' which was aired on T.V. in 1990. This film alone was partly responsible for the resurgence of gypsy jazz in the 1990's and amongst the great gypsy players like Stochelo Rosenberg & Bireli Lagrene, the film also featured this young lad from Liverpool.

Gary Potter Honeysuckle Rose Mega Lesson! - Guitar Lesson

In this exclusive video lesson Gary breaks down his 'Honeysuckle Rose' solo performance as seen in the taster issue. Here you'll learn some of the cool techniques that make up Gary's unique playing style.

Progressive Harmony 2-5-1 - Guitar Lesson

In this lesson you'll learn a modern 2-5-1 chordal lick in G major.

Antoine Boyer and Noe Rein

2 Young French jazz guitar talents join forces to perform a beautiful rendition of Philip Catherine's 'Etude Pour Peter S.'

Steal This Move! Django's 'Tears' - Guitar Lesson

Let me teach you a super hip 2-5-1 lick that you can play over Django's 'Tears'. This move is easy, sounds awesome and is one of my favorites.

Django's 1937 'Minor Swing' Solo - Guitar Lesson

Get that authentic Django sound into your solos by going back to the roots. In Part-2 of a new & exciting series Yaakov Hoter will teach you some of Django's classic phrases from his famous 1937 'Minor Swing' solo!
Purchase Options
Available for iOS / Android
About Gypsy Jazz Guitar Secrets
Explore The World Of Gypsy Jazz With Live Performances, Cutting Edge Lessons, And Exclusive Music And Interviews.
Gypsy Jazz Secrets Magazine is a digital-only, multimedia magazine featuring gypsy jazz articles and interviews with guitarists from around the world, as well as guitar lessons and performances.
Category: Education, Lifestyle, Music, Entertainment
Publisher: Gypsy Jazz Guitar Secrets
Published: Monthly
Language: English
Compatibility: iOS / Android
Past Issues
Tap below for more from Gypsy Jazz Guitar Secrets