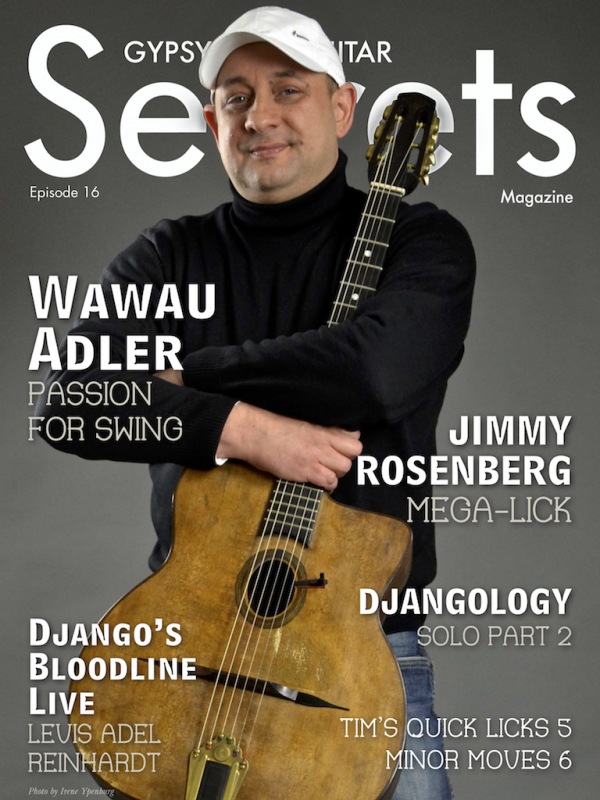 Purchase Options
Available for iOS / Android
In This Issue
Wawau Adler

I first met Wawau Adler in 2000 at the Django Memorial Festival in Augsburg, Germany. I bumped into him in the lift of the hotel and was impressed that he was playing guitar as we headed to the lobby. In fact, he never stopped playing for the entire weekend of the festival, where he left a great impression on all who had heard him - including me. He was the first gypsy at that time apart from Bireli that I'd heard playing in a modern jazz way and on an archtop.

Rhythm Tip From Wawau

"German gypsy guitarist Wawau Adler is one of the most respected gypsy jazz players in the world today. He like Bireli Lagrene (who is family) is at the forefront of the modern style of playing and encompasses Django Reinhardt and George Benson into his playing. In this cool video Wawau shows us how his favorite rhythm players, Holzmano Winterstein - Hono Winterstein and Robert Weiss play La Pompe."

Jimmy Rosenberg Mega Lick

Jimmy Rosenberg is known for his guitar blazing gypsy virtuosity and is perhaps the most technically gifted of all gypsy jazz guitar players. His gypsy licks rock if you know what I mean, and often have a real guitar shredder appeal. Of course this makes copying him very challenging but that's where Yaakov Hoter comes in. In this video Yaakov breaks down one of Jimmy's monster diminished licks and shows us exactly how to play it. Note that Yaakov is teaching both the left hand fingering and the right hand picking action which are both vital in getting this lick right.

"Django's Bloodline 'Royale' Levis Adel Reinhardt"

Levis Adel Reinhardt has Django's blood running through his veins, and there's something special and different about his playing that I like. This jam was captured by Patrus53, our man on the ground in Samois, earlier this year and features another wonderful young guitarist, Remy Hervo.

JAZZ HOT: "English Red" and Django

As a fan of Django, I have been searching for ephemera from the golden age of the Hot Club of France. A few months ago in Paris, I remember walking the streets and thinking to myself, "If I could only get my hands on a real Hot Club poster or a program!" Would I ever stumble upon one by chance? I was told by every acquaintance in France that it was a nearly impossible quest, as most of the surviving documents were owned by descendants of Django or the Ferre family. The only time I saw a similar magazine was one which belonged to Boulou Ferre. He was casually reading it and showing it to us at a Mexican restaurant in Redwood City before a performance in 2006. I never forgot that moment.

Djangology Solo Breakdown Part-2

In this series of lesson I'll be breaking down Django Reinhardt's Djangology solo from 1942 which he did with Stan Brenders Grand Orchestra. Students often ask me "How do I solo over Djangology?". Whenever am struggling with playing over some changes, I always check out what Django was playing. I'm not saying you should try to copy Django, but you do have to be able to speak the language, which means learning from the the master.

Minor Moves Part-6

Ever hit a minor chord and not known what to play? Haven't we all? After this mini series I'm confident you will have sufficient examples to implement in your playing, as well as ideas to develop on your own to never sound dull or predictable playing over a minor chord.

Tim's Quick Licks 5

Hi, I'm Tim Robinson and welcome to 'Tim's Quick Licks'. Each month I'll be teaching you a new lick, which will help you on your way to sounding like a gypsy jazz pro.

Topsy - Transfusion Style

"In Part-1 of 'Topsy' we showed you the 'Wrap Up' video from the Transfusion vault. Jan Brouwer and myself played a tasty arrangement of this cool tune which incorporated all the lessons we'd learned that month in transfusion. Here in Part-2, we're going to learn the melody, plus some tasty bends you can use to solo over this tune."

"Inside Stories From Wawau Adler by Irene Ypenburg"

About what struck me, touched me, made me laugh or left me in awe while dancing around with my guitar, my camera and my drawing pad in the international world of gypsy jazz.
Purchase Options
Available for iOS / Android
About Gypsy Jazz Guitar Secrets
Explore The World Of Gypsy Jazz With Live Performances, Cutting Edge Lessons, And Exclusive Music And Interviews.
Gypsy Jazz Secrets Magazine is a digital-only, multimedia magazine featuring gypsy jazz articles and interviews with guitarists from around the world, as well as guitar lessons and performances.
Category: Education, Lifestyle, Music, Entertainment
Publisher: Gypsy Jazz Guitar Secrets
Published: Monthly
Language: English
Compatibility: iOS / Android
Past Issues
Tap below for more from Gypsy Jazz Guitar Secrets