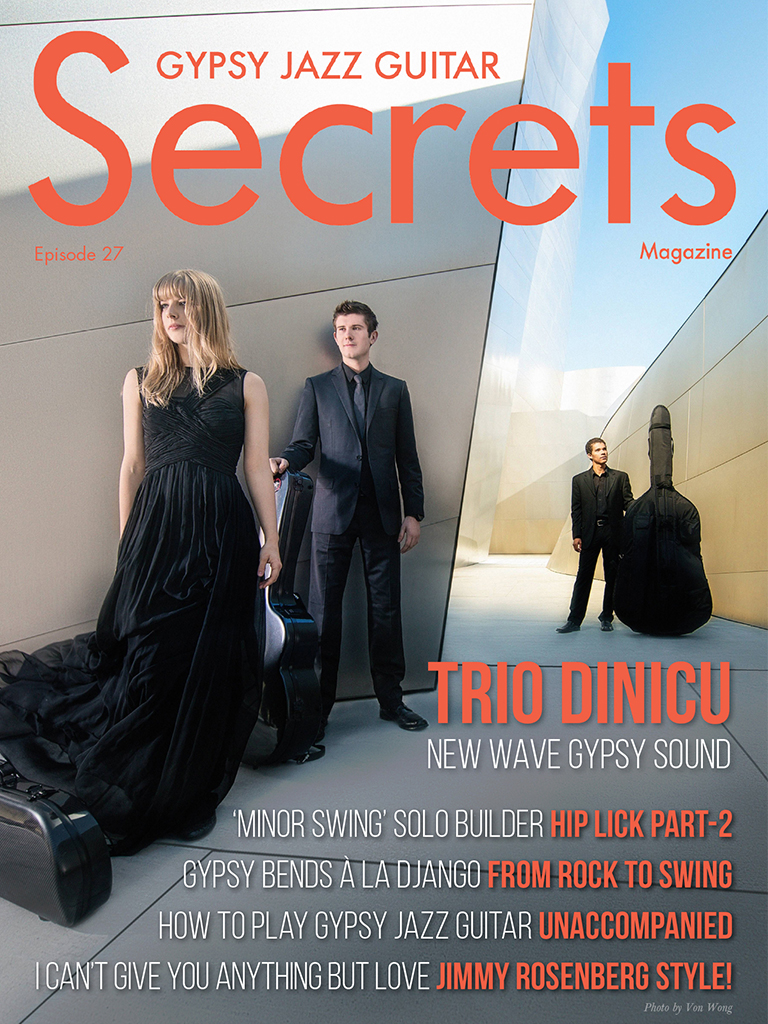 Purchase Options
Available for iOS / Android
In This Issue
Trio Dinicu New Wave Gypsy Virtuosos

Hailed as "dazzling" by the San Francisco Chronicle, Trio Dinicu combines the forces of three highly distinguished musicians. Luanne Homzy a world renowned concert violinist, Tommy Davy, a virtuoso guitarist of the young generation of Franco-Russian guitar and Frank Anastasio, a legendary gypsy jazz bassist and guitarist.

Minor Swing Hip Lick - Video Lesson

In this new 3-part series Gunnar Hilmarsson is showing us how to expand our soloing repertoire with hip licks for 'Minor Swing'.

Gypsy Jazz Q and A - Video Lesson

Learn my 6 tips for playing any gypsy jazz tune as a romantic solo guitar piece.

Angelo's Caprice Django In June Staff Rip It Up

An all star line up of Django In June instructors burn on 'Angelo's Caprice'.

From Rock to Swing Part 3 - Video Lesson

"Welcome to the third in my series of lessons for 'Gypsy Jazz Guitar Secrets' where we'll look at some quick and easy ideas you can add to your playing to make it sound more authentic in this style."

Gypsy Jazz Bass 'I Can't Give You Anything But Love' - Video Lesson

In this lesson bass master Arnoud Vandenberg teaches us a simple two feel through the gypsy jazz standard 'I Can't Give You Anything But Love'.

Irene's Gypsy Jazz Adventures

"About what struck me, touched me, made me laugh or left me in awe while dancing around with my guitar, my camera and my drawing pad in the international world of gypsy jazz."

I Can't Give You Anything But Love Jimmy Rosenberg Style!

In this lesson you'll learn a super slick chordal move that the legendary gypsy guitarist Jimmy Rosenberg showed me. We're looking at ways to improvise on the standard 'I Can't Give You Anything But Love' and Jimmy played this lick almost every time he played that tune.
Purchase Options
Available for iOS / Android
About Gypsy Jazz Guitar Secrets
Explore The World Of Gypsy Jazz With Live Performances, Cutting Edge Lessons, And Exclusive Music And Interviews.
Gypsy Jazz Secrets Magazine is a digital-only, multimedia magazine featuring gypsy jazz articles and interviews with guitarists from around the world, as well as guitar lessons and performances.
Category: Education, Lifestyle, Music, Entertainment
Publisher: Gypsy Jazz Guitar Secrets
Published: Monthly
Language: English
Compatibility: iOS / Android
Past Issues
Tap below for more from Gypsy Jazz Guitar Secrets