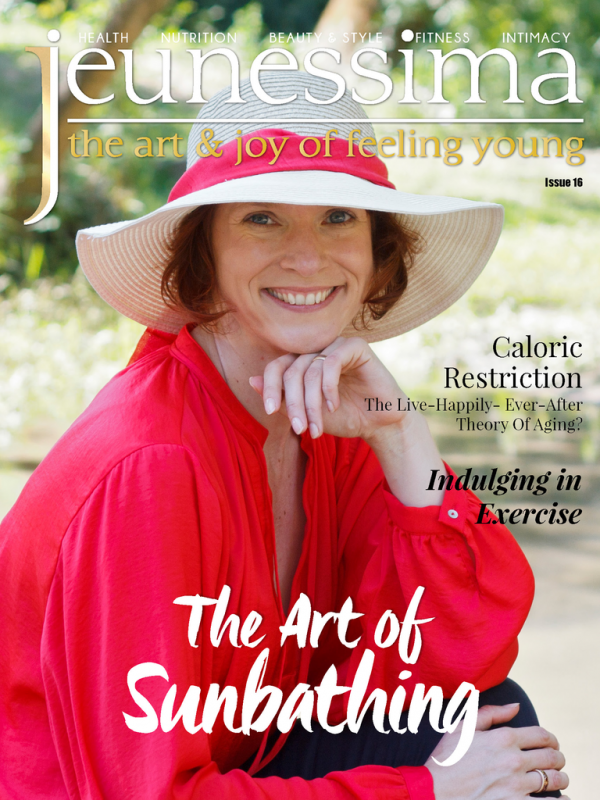 Purchase Options
Available for: iOS/Android App + Web Reader
In This Issue
Mirror, Mirror on the Wall … Am I the Fittest Woman of All?

Tired of not seeing the changes in your body despite hours of hard work? Find a brand-new product to help you stay motivated and reach your goal

Jeunessima Café

Last month we asked: What is Luxury for You? Find out what your fellow JWomen answered

Caloric Restriction. The Live-Happily-Ever-After Theory of Aging?

Uncovering yet another theory of aging, we tackle the Caloric Reduction Theory. Can a long-term lifestyle change in your diet really lead you to a longer life?

The Pleasure of Living. Portrait of Christiane Northrup

Should indulging be part of our daily lives? Read what New York Times Bestselling Author Christiane Northrup thinks about this

A Me Day. It Is Time for Some Self-Love

Discover how taking some time for yourself will benefit you and the people around you … and how to have a rejuvenating & happy 'Me Day'

The Art of Sunbathing

How to get your melanin going … and get a beautiful tan

Indulging in Exercise. Strenuous Exercise Is Not Always the Best Solution

Do you really need a lot of exercise to stay fit, young and healthy? Find out why sometimes less is more

Jeunessima News

Discover some of the most powerful spices to speed up recovery and live longer and healthier. And find out what researchers have developed to keep wrinkles in check

Giving Your Skin a Boost. the Best Creams and Serums to Repair Your Skin Overnight

Sometimes your skin needs a little help to look its best. See the best products that Jeunessima team member Varsha Muckatira has discovered for you

The 4 Make-Up Must-Haves for the Woman Over 40

You only need 4 products that give you that sophisticated and fresh look at any time

Eating What You Want Might Be the Best Diet

Are you craving chocolate right now? Or a glass of delicious wine? What if we told you that you can and you should let yourself indulge?

Jeunessima Recipes

Coffee and chocolate are often damned as 'bad food'; but, at Jeunessima, we want to show you the benefits you can get from them along with sharing recipes to get the best of those two delicious treats

… AND MUCH MORE OF COURSE!
Purchase Options
Available for: iOS/Android App + Web Reader
About Jeunessima
Jeunessima is THE lifestyle magazine for busy women over 40 who want to enjoy life … every day … at any age.
We share with you the most effective tips & research on how you can get the best results for your health, wellness, biofinesse, biohacking, nutrition, fitness, mind, antiaging … with the least amount of effort.
Category: Fashion, Sports & Fitness, Health & Nutrition, Lifestyle, Wellness & Meditation, Women's
Publisher: Jeunessima
Published: Bi-monthly
Language: English
Compatibility: iOS/Android App + Web Reader
Peek Inside
Tap images to enlarge...
About The Publisher
Jeunessima is THE Lifestyle Company for busy women over 40 who want to enjoy life... every day... at any age. I am Ines... Dr Ines O'Donovan, PhD, the... read more

Past Issues
Tap below for more from Jeunessima