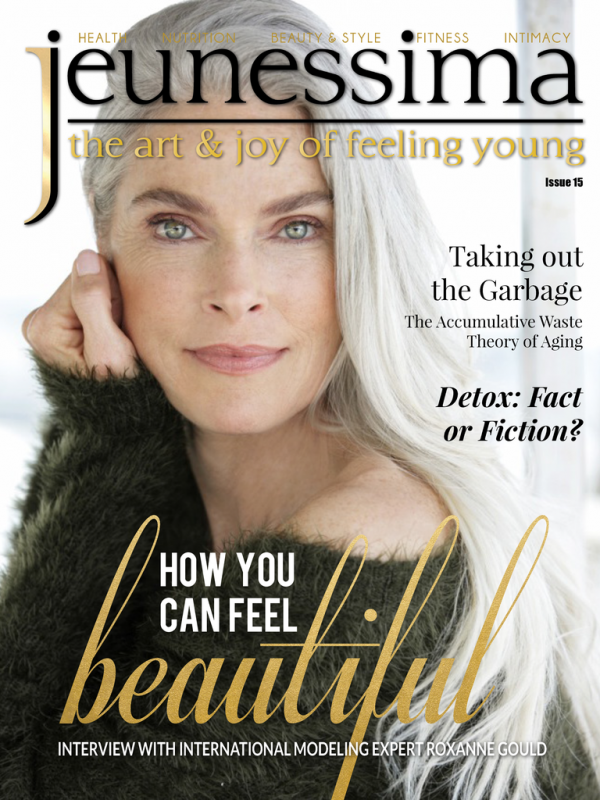 Purchase Options
Available for: iOS/Android App + Web Reader
In This Issue
Socialite Collection

Keeping track of your health while remaining stylish? Discover in this month's Jeunessima Indulge smart jewelry

Jeunessima Café

What temptations would you be better off removing from your life? Fellow JWomen share their thoughts

Taking out the Garbage: The Accumulative Waste Theory of Aging

Discover yet another theory of aging, one that talks about the garbage that builds up in your body over time

Do You Want to Live Longer?

Health and lifespan have never been so tight, and our attitude towards it is slightly changing. Discover what your fellow citizens think

Tips & Tricks on How You Can Feel Beautiful All the Time - Interview With Roxanne Gould

Have you been wondering how models manage to always look beautiful … and how they feel inside? Find out in this interview with Roxanne Gould who is modeling for more than 50 years already

Smile for a Youthful Appearance and a Longer, Healthier Life

Do you love smiling? Then we have good news. There are a lot of advantages that you get from it. Find out more in this article

Detoxing for Health and Youth: Fact or Fiction?

Can detoxing really help you eliminate toxins, improve your health and energy levels while slowing down the aging process, or is it just a myth?

Panchakarma and Rasayana: Cleansing and Rejuvenation the Ayurvedic Way

Discover Ayurveda, the Indian Science of Life and how it can help you to eliminate toxins from your body and mind to reach a balanced state of health

Fasting - The Way to Regeneration and Rejuvenation

Fasting is known as an effective but very challenging way to lose weight, reduce the risk of cancer and regenerate your immune system. Could you get the same effects using other approaches as well? Find out

Jeunessima News

Uncover the latest news and discoveries on how to move easier, slow cognitive and other aging and what sex has to do with mental fitness

Jeunessima Detox Recipes

Start off your day full of energy and help your body get rid of toxins with those two easy and delicious morning drinks

… AND MUCH MORE OF COURSE!
Purchase Options
Available for: iOS/Android App + Web Reader
About Jeunessima
Jeunessima is THE lifestyle magazine for busy women over 40 who want to enjoy life … every day … at any age.
We share with you the most effective tips & research on how you can get the best results for your health, wellness, biofinesse, biohacking, nutrition, fitness, mind, antiaging … with the least amount of effort.
Category: Fashion, Sports & Fitness, Health & Nutrition, Lifestyle, Wellness & Meditation, Women's
Publisher: Jeunessima
Published: Bi-monthly
Language: English
Compatibility: iOS/Android App + Web Reader
Peek Inside
Tap images to enlarge...
About The Publisher
Jeunessima is THE Lifestyle Company for busy women over 40 who want to enjoy life... every day... at any age. I am Ines... Dr Ines O'Donovan, PhD, the... read more

Past Issues
Tap below for more from Jeunessima