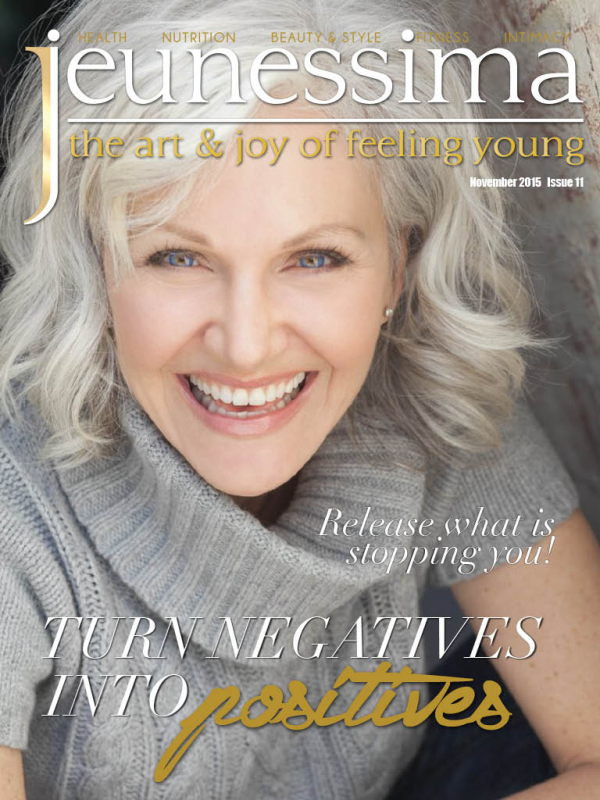 Purchase Options
Available for: iOS/Android App + Web Reader
In This Issue
Indulge in Rejuvenation Water

Discover the new premium lifestyle drink that boosts your immune system and restores your energy.

Jeunessima Café

What does happiness mean to you? Hear what Jeunessima Women around the world have to say

Chickens and Boffins: The 'Limited Number of Cell Divisions' Theory of Aging

Editor-in-Chief and CEO of Jeunessima, Dr. Ines O'Donovan explores the 'Limited Number of Cell Divisions' aging theory, as part of her theory of ageing series.

How to overcome negative thoughts

Learn how negative thinking affects our lives and how to find positivity and balance outside of negative thoughts.

Release what is stopping you

Release the fear that is holding you back and overcome stress in your life

Why it's important to be kind. The view of a former Employee

The co-founder and managing director of Spa Breaks gives her perspective of the importance of kindness in working environments.

The effect of toxic relationships on body, mind & soul

How can you stop toxic relationships from negatively affecting your health and wellbeing? Discover the key steps to forgiveness and letting go.

Living in the City. Air Pollution and Aging Skin

City life offers many good points, but it also contributes to aging skin. Follow our guide to protect your complexion from pollution and environmental aggressors.

Look good. Feel great

It's time to embrace the silver hair trend and go natural!

Eat your Way to a more positive Mood

Do you want to feel happier and healthier in life? The key is in your diet

Why do I endorse Chocolate?

Yes, you can eat that bar of chocolate. Discover the health benefits of chocolate on your mind and physical wellbeing.

Jeunessima News

Read the latest news on health, wellbeing and aging.

Delicious & healthy hot Chocolate

Learn how to make a delicious, super easy and healthy hot chocolate by The Healthy Chef Teresa Cutter.

… AND MUCH MORE OF COURSE!
Purchase Options
Available for: iOS/Android App + Web Reader
About Jeunessima
Jeunessima is THE lifestyle magazine for busy women over 40 who want to enjoy life … every day … at any age.
We share with you the most effective tips & research on how you can get the best results for your health, wellness, biofinesse, biohacking, nutrition, fitness, mind, antiaging … with the least amount of effort.
Category: Fashion, Sports & Fitness, Health & Nutrition, Lifestyle, Wellness & Meditation, Women's
Publisher: Jeunessima
Published: Bi-monthly
Language: English
Compatibility: iOS/Android App + Web Reader
Peek Inside
Tap images to enlarge...
About The Publisher
Jeunessima is THE Lifestyle Company for busy women over 40 who want to enjoy life... every day... at any age. I am Ines... Dr Ines O'Donovan, PhD, the... read more

Past Issues
Tap below for more from Jeunessima