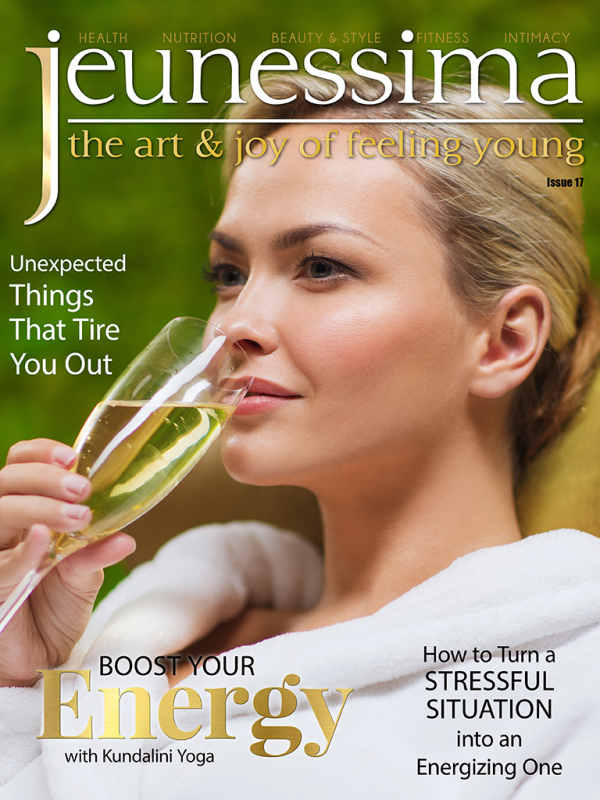 Purchase Options
Available for: iOS/Android App + Web Reader
In This Issue
Glasses That Re-Align Your Circadian Rhythm and Boost Your Energy

Are you struggling to get your energy going or suffer from jetlag after a long flight? Check out this new product

Jeunessima Café

Last month we asked: Which Woman Do You Admire Most? And Why? Find out what your fellow Jeunessima Women answered

Energizing Your Day. Transforming Your Life … With Kundalini Yoga

Kundalini Yoga is very popular. For a very good reason. In this interview Dr Somer Nicole describes what Kundalini is and how you can use it to have more energy … and life

Unexpected Things That Actually Tire You out (And What to Do About Them)

Ever feel drained and cannot quite put your finger on the reason why? Experts reveal unexpected reasons and give simple solutions to boost your energy

How to Turn a Stressful Situation Into an Energizing One

Stress is part of our everyday life. Read what experts recommend on how you can turn a stressful situation into an energizing one

10 Luxury Spas in Europe That Will Bring You Back to Life

You need a break? Why not enjoy a luxury spa … in Europe? We have found 10 spa hotels for you that each provide unique health and wellbeing experiences

Jeunessima News

Discover how artificial light and financial stress are wrecking your life and why it is crucial to supplement with Vitamin D

Aromatherapy. The Pleasurable Way to Better Mood and Youthful Vitality

Essential oil might be the quickest way to boost your mood and youthful vitality. Find out more about aromatherapy and recipes for instant wellbeing and healing

Boost Your Energy With Kundalini Yoga

Try this short kundalini yoga sequence specifically developed for you by Dr Somer Nicole and boost your energy that will last you the whole day

Jeunessima Recipes

If you want to be happier and have more energy and even better sex, try these smoothie recipes

… AND MUCH MORE OF COURSE!
Purchase Options
Available for: iOS/Android App + Web Reader
About Jeunessima
Jeunessima is THE lifestyle magazine for busy women over 40 who want to enjoy life … every day … at any age.
We share with you the most effective tips & research on how you can get the best results for your health, wellness, biofinesse, biohacking, nutrition, fitness, mind, antiaging … with the least amount of effort.
Category: Fashion, Sports & Fitness, Health & Nutrition, Lifestyle, Wellness & Meditation, Women's
Publisher: Jeunessima
Published: Bi-monthly
Language: English
Compatibility: iOS/Android App + Web Reader
Peek Inside
Tap images to enlarge...
About The Publisher
Jeunessima is THE Lifestyle Company for busy women over 40 who want to enjoy life... every day... at any age. I am Ines... Dr Ines O'Donovan, PhD, the... read more

Past Issues
Tap below for more from Jeunessima