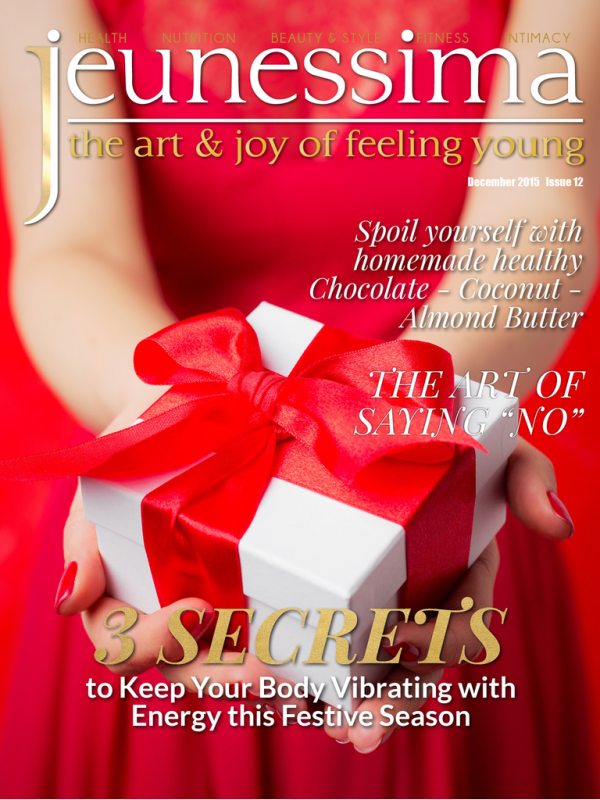 Purchase Options
Available for: iOS/Android App + Web Reader
In This Issue
Elvie, your new personal Trainer

Are you ready for your most personal trainer? Meet Elvie, the new exercise trainer designed specifically for women…

Jeunessima Café

What advice would YOU give to your 21-year-old self? Fellow Jeunessima Women share their advice

Time to Throw Out the Wear & Tear Theory of Aging? Aging Theories Explored

Is it time to retire one of the oldest theories of aging; The Wear and Tear Theory? Dr. Ines O'Donovan explores Doctor Weismann's long ago formulated theory

Interview with Jeunessima Doyenne Ada Ooi

Founder & CEO of Jeunessima, Ines, interviews aromatherapist, skin expert and founder of 001 Skincare London, Ada Ooi on her experiences and creating her beauty brand

Beat Xmas Sluggishness: 3 Secrets to Keep Your Body Vibrating With Energy This Festive Season

Beat the old yearly trap of giving up on your exercise routine and indulging in too much food and drink over the holidays, with a few simple steps

The Art of Saying No

No isn't always easy to say, but sometimes for the sake of your physical & mental wellbeing it's necessary

5 Yoga Poses to Increase Your Energy

Yoga teacher Lexi shares her simple and effective yoga poses to increase your energy almost immediately

Meditation for Increased Energy

Do you wish you had more energy? You're not the only one. Meditation not only calms and focuses the mind, find out how it can be an effective solution for increased energy

Jeunessima Beauty Secrets: Mind and Body Awakening Bath & Body Products

Jeunessima Editor, Karen, shares her favorite bath & body products to give you that refreshing morning burst of energy!

Master the Art of Strobing

Confused by the difference between strobing and contouring? Get all the industry insider secrets and learn how to strobe like a pro this season

Jeunessima News

The 'healthy'food that lets you age quicker. The supplement that improves depression. How to lengthen your telomeres. Find out the latest news on health, aging, and wellbeing

Energizing Foods & Drinks

Nutritionist Emma Randall shares her tips on what to eat and drink to stay energetic and well this festive season

Jeunessima Recipes: Coconut Almond Butter

Indulge and still be healthy with this super easy and delicious Chocolate Coconut Almond Butter Recipe, perfect with everything and anything!

… AND MUCH MORE OF COURSE!
Purchase Options
Available for: iOS/Android App + Web Reader
About Jeunessima
Jeunessima is THE lifestyle magazine for busy women over 40 who want to enjoy life … every day … at any age.
We share with you the most effective tips & research on how you can get the best results for your health, wellness, biofinesse, biohacking, nutrition, fitness, mind, antiaging … with the least amount of effort.
Category: Fashion, Sports & Fitness, Health & Nutrition, Lifestyle, Wellness & Meditation, Women's
Publisher: Jeunessima
Published: Bi-monthly
Language: English
Compatibility: iOS/Android App + Web Reader
Peek Inside
Tap images to enlarge...
About The Publisher
Jeunessima is THE Lifestyle Company for busy women over 40 who want to enjoy life... every day... at any age. I am Ines... Dr Ines O'Donovan, PhD, the... read more

Past Issues
Tap below for more from Jeunessima