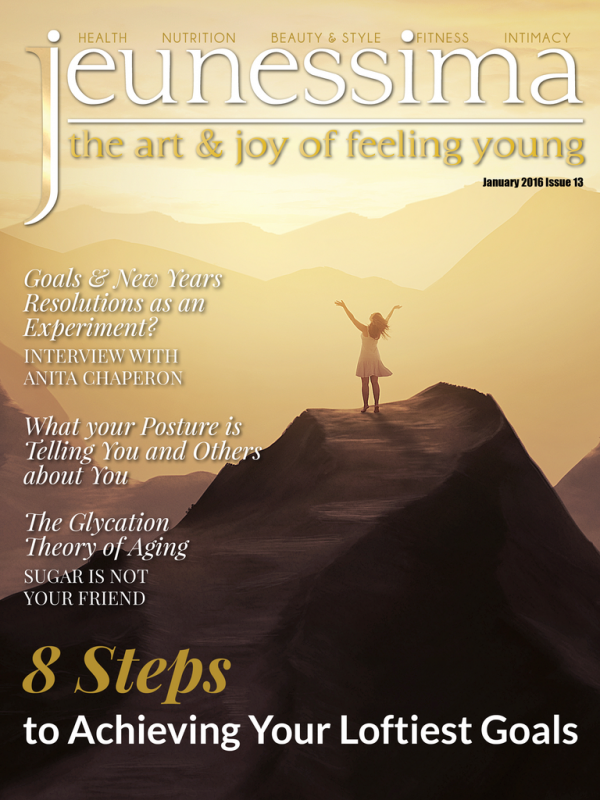 Purchase Options
Available for: iOS/Android App + Web Reader
In This Issue
Give your Health a Kick

Check out the Rhythm Superfood Snacks, a tasty addition to your daily snack box

Jeunessima Café

What is the 1 Thing that you are most proud of in 2015? Read our favorite answer

Aging Theories explored: The Glycation Theory of Aging. Sugar is not your Friend

Our old 'friend' sugar raises its ugly head again! Dr. Ines O'Donovan introduces another aging theory that lets you look particularly old, the glycation theory of aging

Goals & New Years Resolutions as an Experiment. Dr. Ines O'Donovan interviews Anita Chaperon

Creator & CEO of Jeunessima, Ines, interviews Anita Chaperon, Co-founder of the 1% Club exploring why she is opposed to New Year resolutions, and the approach she recommends

The Fast-Start Experience Framework. The quickest Way to a successful Business & Life

Anita Chaperon shares with you her 8-step approach to creating real results in your personal and business life while taking the pressure out of goal setting

New Year's Goals: Tips to Stay Motivated

You want to break that 'habit' of falling short of your goal that you've set at New Year just a few weeks later. Laura McKelvie shares her ways for staying motivated

8 Steps to Achieving Your Loftiest Goals this Year

Have you built your expansion plan for your business and life? Sherrie Campbell introduces her system to goals that will help you to think bigger and more confident

What your Posture is Telling You and Others about You

Are you 'spineless', or do you have 'backbone?' Our body speaks a language to the world. Learn from Ines O'Donovan how you can change the 'language' settings in as little as 2 minutes for powerful changes in our lives

How to Get Rid of Under Eye Circles like a Pro

Are you battling those nasty under eye circles and just can't find any effective way to hide them? Let Alana Gage show you her routine to look fresher and more youthful

Jeunessima News

Find out the latest news on health, aging, and wellbeing with Jeunessima News. Discover a simple way to have a brain like somebody 11 years younger than you are and more …

Jeunessima Recipe: Carrot Cake Protein Smoothie Bowl

After a month of indulging it is time for a little bit of detox. But it does neither have to be boring or tasteless. Try our editor Karen Athwal's favourite recipe, the Carrot Cake Protein Smoothie Bowl

… AND MUCH MORE OF COURSE!
Purchase Options
Available for: iOS/Android App + Web Reader
About Jeunessima
Jeunessima is THE lifestyle magazine for busy women over 40 who want to enjoy life … every day … at any age.
We share with you the most effective tips & research on how you can get the best results for your health, wellness, biofinesse, biohacking, nutrition, fitness, mind, antiaging … with the least amount of effort.
Category: Fashion, Sports & Fitness, Health & Nutrition, Lifestyle, Wellness & Meditation, Women's
Publisher: Jeunessima
Published: Bi-monthly
Language: English
Compatibility: iOS/Android App + Web Reader
Peek Inside
Tap images to enlarge...
About The Publisher
Jeunessima is THE Lifestyle Company for busy women over 40 who want to enjoy life... every day... at any age. I am Ines... Dr Ines O'Donovan, PhD, the... read more

Past Issues
Tap below for more from Jeunessima