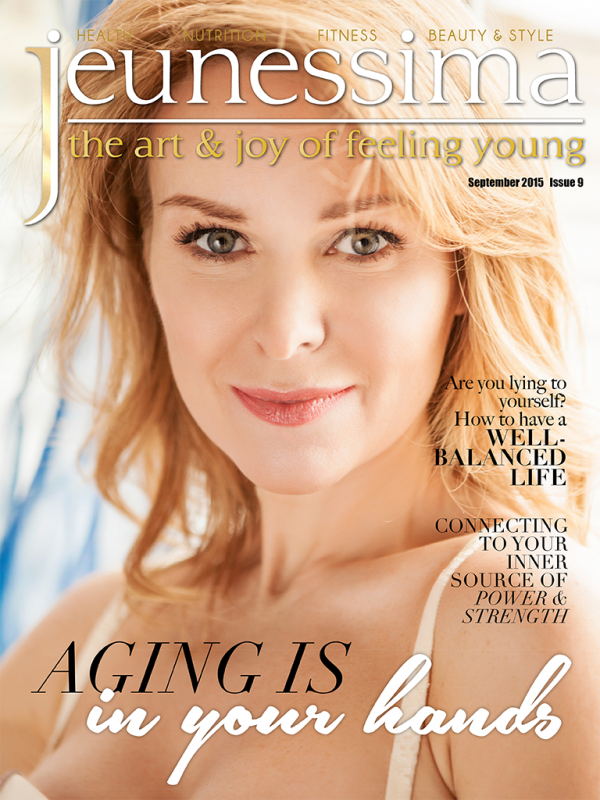 Purchase Options
Available for iOS / Android / Web Reader
In This Issue
Feel more alive or relax … on command

Discover the latest technology to help you set a better pace of life and be more productive.

Jeunessima Café

What are you most grateful for in your life? Join the conversation with Jeunessima Women around the world

Aging is genetic…or is it? A theory of aging explored

Editor-in-chief and CEO of Jeunessima, Dr. Ines O'Donovan delves deep into the theory of aging. Is it really all down to genetics? Find out the answer

Are you lying to yourself? How to have a well-balanced life

Acclaimed author of several time management books, Laura Vanderkam, shares her research and thoughts on creating balance in our lives.

Resolutely France, pour moi

The story of one woman's passionate relationship with France and her deep connection with the country's history and heritage.

Beauty Saviors. Products that save your Time

Jeunessima Editor Karen, picks out her go-to time saving beauty products for an effortless look in minutes!

How a timeout can increase your productivity and keep your mind and body refreshed

Learn how taking a short break or two during a busy day can get you back in touch with your mind and body.

Jeunessima News

Indulge in Chocolate. Protect your telomeres. How to keep an optimistic outlook. Read the latest news on health, wellbeing and aging.

8 Foods to make you look (and feel) younger

Can food really make you look younger? Nutritional Therapy Practitioner, Kellie Hill, shares her top 8 age-defying foods.

Rejuvenating Kale, Avocado and Lemon power shake

Need a morning power boost to start your day off right? This nutritious and delicious shake will give you the shot of energy you need.

An energizing morning yoga sequence

Think you don't have time for yoga? Once you feel the benefits of this energizing sequence, you'll change your mind!

Connecting to your inner source of power and strength

Shamanic Psychotherapist and Energy Healer, Abby Wynne, helps us to re-connect with our inner wisdom, power and strength.

… AND MUCH MORE OF COURSE!
Purchase Options
Available for iOS / Android / Web Reader
About Jeunessima
Jeunessima is THE lifestyle magazine for busy women over 40 who want to enjoy life … every day … at any age.
We share with you the most effective tips & research on how you can get the best results for your health, wellness, biofinesse, biohacking, nutrition, fitness, mind, antiaging … with the least amount of effort.
Category: Fashion, Sports & Fitness, Health & Nutrition, Lifestyle, Wellness & Meditation, Women's
Publisher: Jeunessima
Published: Bi-monthly
Language: English
Compatibility: iOS / Android / Web Reader
Peek Inside
Tap images to enlarge...
About The Publisher
Jeunessima is THE Lifestyle Company for busy women over 40 who want to enjoy life... every day... at any age. I am Ines... Dr Ines O'Donovan, PhD, the... read more

Past Issues
Tap below for more from Jeunessima