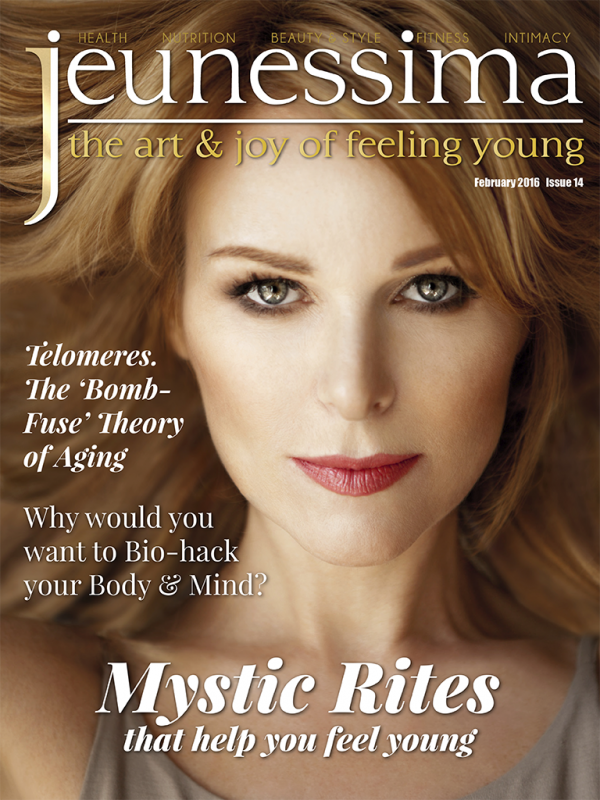 Purchase Options
Available for: iOS/Android App + Web Reader
In This Issue
Indulge in Water

Are you getting enough water? Discover the Thermos Connected Hydrations Bottle, the fool-proof way to staying hydrated!

Jeunessima Café

"What Temptations would you be better off removing from your life? Fellow Jeunessima Women share their experiences"

Telomeres. The 'Bomb-Fuse' Theory of Aging. Can it be de-fused?

Dr. Ines O'Donovan explores the Telomeres and their role in aging.

Bio-hacking: What is it?

Have you been wondering how to slow down the aging process and increase the performance of your body and mind? Learn more about bio-hacking and how to become your best Self.

Why would you want to Bio-hack your Body & Mind?

Claudia Romeo interviews 3 international Women Bio-Hackers

Menopausal Relief from an Herbal Perspective

Dr. I. Sandford Schwartz shares his secrets on a special plant to ameliorate menopausal symptoms

The 5 Tibetans

Mystic Rites that help you feel young

How to eat your way to fabulous

Read about the best foods to keep you healthy and beautiful

Totality. Interview with a Yoga Master

Ines O'Donovan interviews V.K. Kansal, Yoga Master from India, about the totality state of mind.

Can your friends keep you young?

Learn how keeping close connections can help you slow aging and live longer

Jeunessima News

Find out the latest news on health, aging, global issues and wellbeing with Jeunessima News.

Look Fabulous, feel fabulous

Discover how your self-mage can make you feel more confident and youthful

Jeunessima Recipes for everlasting Youth

Indulge in a healthy and creamy tomato soup made with feel-good whole food ingredients.

… AND MUCH MORE OF COURSE!
Purchase Options
Available for: iOS/Android App + Web Reader
About Jeunessima
Jeunessima is THE lifestyle magazine for busy women over 40 who want to enjoy life … every day … at any age.
We share with you the most effective tips & research on how you can get the best results for your health, wellness, biofinesse, biohacking, nutrition, fitness, mind, antiaging … with the least amount of effort.
Category: Fashion, Sports & Fitness, Health & Nutrition, Lifestyle, Wellness & Meditation, Women's
Publisher: Jeunessima
Published: Bi-monthly
Language: English
Compatibility: iOS/Android App + Web Reader
Peek Inside
Tap images to enlarge...
About The Publisher
Jeunessima is THE Lifestyle Company for busy women over 40 who want to enjoy life... every day... at any age. I am Ines... Dr Ines O'Donovan, PhD, the... read more

Past Issues
Tap below for more from Jeunessima