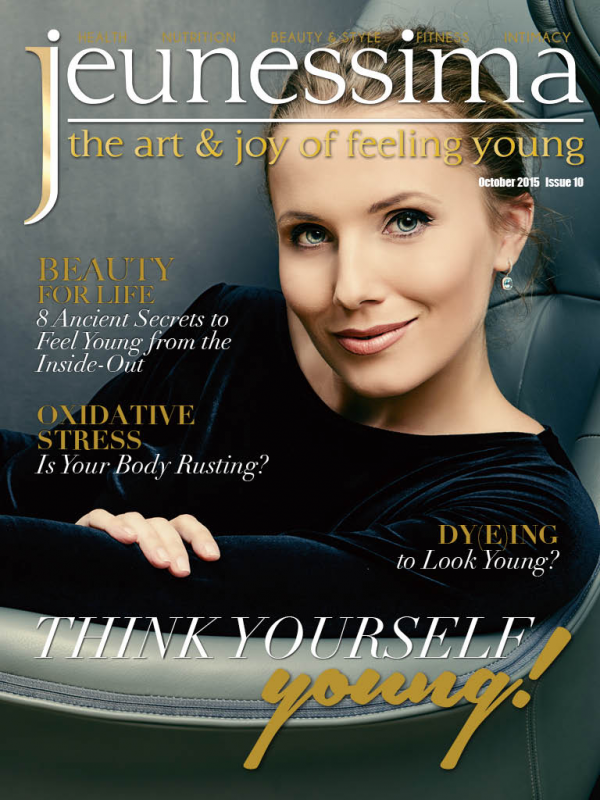 Purchase Options
Available for: iOS/Android App + Web Reader
In This Issue
Track your Health and look stylish with Bellabeat

Discover the chic new item of Jewelry that monitors your health and wellbeing

Jeunessima Café

What are you most grateful for in your life? Join the conversation with Jeunessima Women around the world

Oxidative Stress … is your Body rusting? A Theory of Aging explored

Editor-in-Chief and CEO of Jeunessima, Dr. Ines O'Donovan explores the theory of free radical aging and how an antioxidant-rich diet can fight the causes of oxidative stress in our daily lives.

Cultivating a Youthful Outlook on Life

Discover the simple steps and lifestyle changes that can help you to maintain a youthful and healthy outlook on life.

Think yourself young. Sherry Richert Belul interviews Dr. Ines O'Donovan, Founder of Jeunessima

Find out why Dr. Ines O'Donovan created Jeunessima and why it is so important to think young, including her top 3 tips for staying young.

Dy(e)ing to Look Young

Could coloring your hair be putting your health at risk? Find out how to stay safe when dyeing your hair.

Make-up Tips for a YOUthful Look

Jeunessima Editor Karen, shares her top make-up tips for achieving a youthful and flawless look every day.

The Best Beauty Buys for a Youthful Look

We share our favourite beauty buys for creating a youthful and natural beauty look.

Beauty for Life. 8 Ancient Secrets to feel Young from the Inside-Out

Shanthi Yogini uncovers the secrets to a youthful mind and body from ancient times.

Jeunessima News

Ease the pain of your period. Fight inflammation & slow aging. Why you want to wear heels. Read the latest news on health, wellbeing and aging.

Turmeric - the golden spice!

After reading about the benefits of this golden spice, you'll want to add it to everything.

Orange Turmeric Gluten Free Cake Recipe

This cake is perfect for special occasions or afternoon tea and a great gluten free alternative to store-brought cake.

… AND MUCH MORE OF COURSE!
Purchase Options
Available for: iOS/Android App + Web Reader
About Jeunessima
Jeunessima is THE lifestyle magazine for busy women over 40 who want to enjoy life … every day … at any age.
We share with you the most effective tips & research on how you can get the best results for your health, wellness, biofinesse, biohacking, nutrition, fitness, mind, antiaging … with the least amount of effort.
Category: Fashion, Sports & Fitness, Health & Nutrition, Lifestyle, Wellness & Meditation, Women's
Publisher: Jeunessima
Published: Bi-monthly
Language: English
Compatibility: iOS/Android App + Web Reader
Peek Inside
Tap images to enlarge...
About The Publisher
Jeunessima is THE Lifestyle Company for busy women over 40 who want to enjoy life... every day... at any age. I am Ines... Dr Ines O'Donovan, PhD, the... read more

Past Issues
Tap below for more from Jeunessima