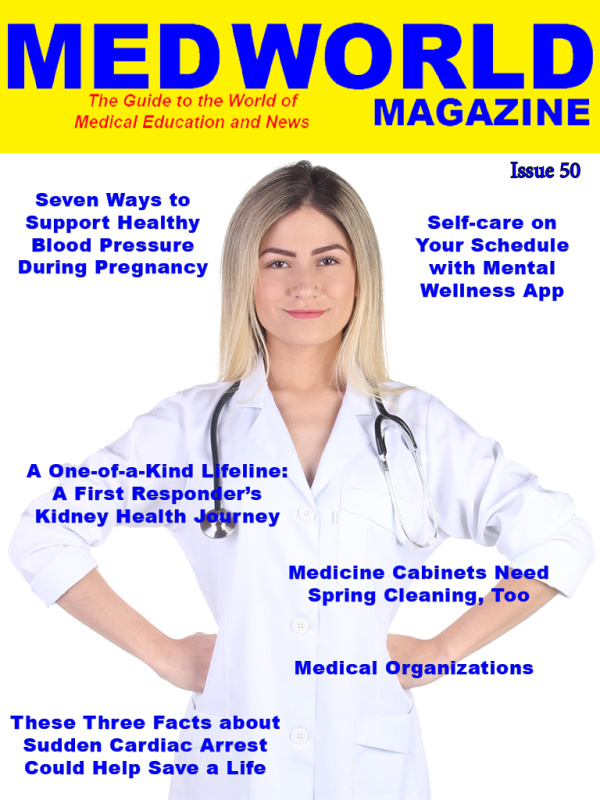 Purchase Options
Available for: iOS/Android App + Web Reader
In This Issue
Seven Ways to Support Healthy Blood Pressure During Pregnancy

It's time to think about your blood pressure, even if you've never had high blood pressure. About half of pregnancy complications, such as having a preterm baby, are related to high blood pressure.

A One-of-a-Kind Lifeline: A First Responder's Kidney Health Journey

Polycystic Kidney Disease (PKD) affects more than seven million people worldwide, and in 1975 Cooper became one of those impacted by the disease.

Self-care on Your Schedule with Mental Wellness App

Finding the time to focus on our health can be a struggle during busy or challenging times. That's exactly why mental wellness app, Breethe, meets you where you're at, ensuring self-care becomes a reality and not just a hopeful wish.

Medicine Cabinets Need Spring Cleaning, Too

We all do it: we let over-the-counter (OTC) medicines like pain relievers for a headache, allergy medicine or cough and cold products pileup in our bathrooms.

These Three Facts about Sudden Cardiac Arrest Could Help Save a Life

February is American Heart Month and you can learn critical information about sudden cardiac arrest (SCA) that could help you save a life.

Medical Organizations

A listing of medical related organizations.
Purchase Options
Available for: iOS/Android App + Web Reader
About Med World
Med World Magazine is your quarterly guide to the world of medical education and news.
Stay up to date on important medical news, latest news release from medical schools, and read our medical educational articles.
Our supplemental issues contain numerous listings of important medical organizations, schools, publications and medical social media sites.
Category: Careers, Education, Family & Home, Medical, Personal Development
Publisher: Med World
Published: Quarterly
Language: English
Compatibility: iOS/Android App + Web Reader
Peek Inside
Tap images to enlarge...
About The Publisher
Medical World Magazine: Your Guide To The World of Medical Education and News Medical World Magazine began publishing in 2014 as "The Incredible Medical... read more

Past Issues
Tap below for more from Med World Magazine