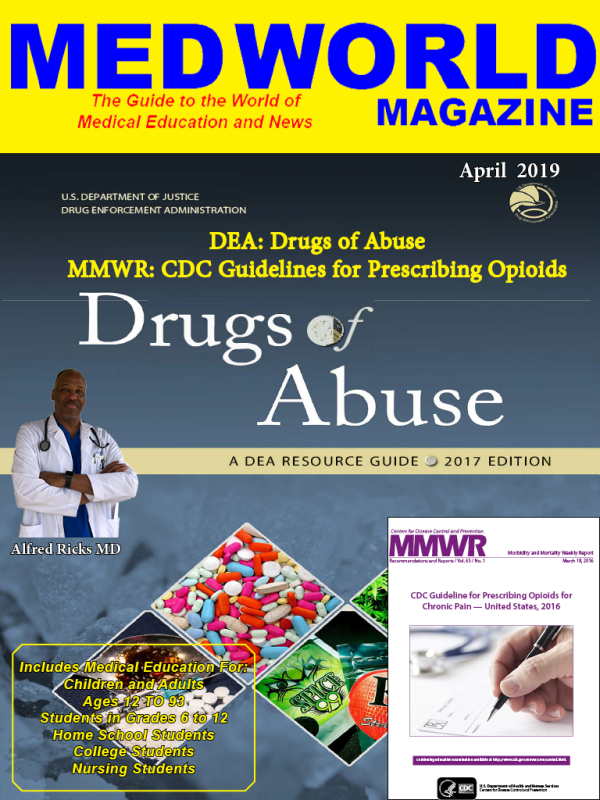 Purchase Options
Available for: iOS/Android App + Web Reader
In This Issue
Most Googled Health Problems by States

Interesting listing of the most searched health problems for each state. Examples: Porn Addiction in West Virginia; Binge Drinking in Iowa.

DEA: Drugs of Abuse

Education plays a critical role in preventing substance abuse. Drugs of Abuse, A DEA Resource Guide, is designed to be a reliable resource on the most commonly abused and misused drugs in the United States. This comprehensive guide provides important information about the harms and consequences of drug use by describing a drug's effects on the body and mind, overdose potential, origin, legal status, and other key facts. Drugs of Abuse also offers a list of additional drug education and prevention resources.

MMWR: CDC Guidelines for Prescribing Opioids

This guideline provides recommendations for primary care clinicians who are prescribing opioids for chronic pain outside of active cancer treatment, palliative care, and end-of-life care. The guideline addresses 1) when to initiate or continue opioids for chronic pain; 2) opioid selection, dosage, duration, follow-up, and discontinuation; and 3) assessing risk and addressing harms of opioid use.
Purchase Options
Available for: iOS/Android App + Web Reader
About Med World
Med World Magazine is your quarterly guide to the world of medical education and news.
Stay up to date on important medical news, latest news release from medical schools, and read our medical educational articles.
Our supplemental issues contain numerous listings of important medical organizations, schools, publications and medical social media sites.
Category: Careers, Education, Family & Home, Medical, Personal Development
Publisher: Med World
Published: Quarterly
Language: English
Compatibility: iOS/Android App + Web Reader
Peek Inside
Tap images to enlarge...
About The Publisher
Medical World Magazine: Your Guide To The World of Medical Education and News Medical World Magazine began publishing in 2014 as "The Incredible Medical... read more

Past Issues
Tap below for more from Med World Magazine