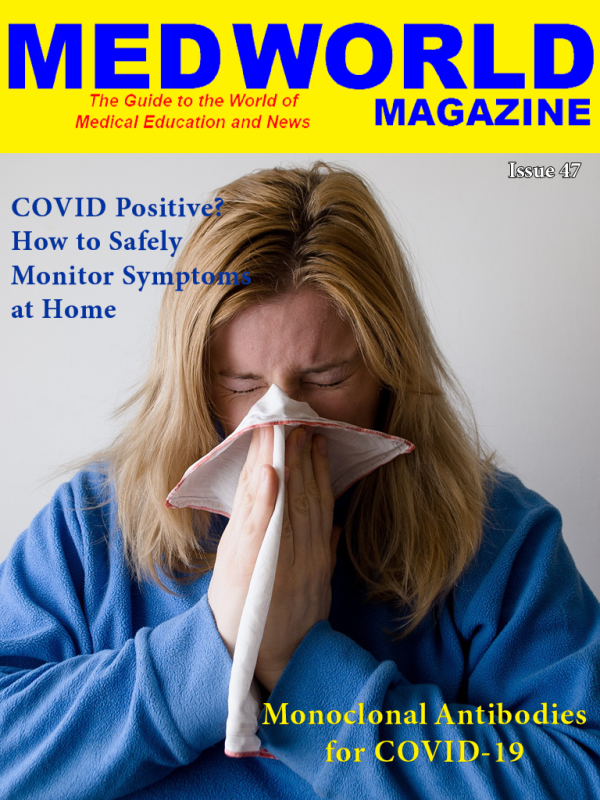 Purchase Options
Available for: iOS/Android App + Web Reader
In This Issue
Covid Positive?

How to Safely Monitor Symptoms At Home.

Monoclonal Antibodies for Covid-19

The Science Behind Monoclonal Antibodies For COVID-19. Fact Sheet For Patients, Parents And Caregivers Emergency Use Authorization (Eua) Of Regen-Cov (Casirivimab And Imdevimab) For Coronavirus Disease 2019 (Covid-19). Patient Consent Form For Covid-19 Treatment Purpose Of Informed Consent (Bamlanivimab, Bamlanivimab/Etesevimab or Casirivimab/Imdevimab (Regeneron).
Purchase Options
Available for: iOS/Android App + Web Reader
About Med World
Med World Magazine is your quarterly guide to the world of medical education and news.
Stay up to date on important medical news, latest news release from medical schools, and read our medical educational articles.
Our supplemental issues contain numerous listings of important medical organizations, schools, publications and medical social media sites.
Category: Careers, Education, Family & Home, Medical, Personal Development
Publisher: Med World
Published: Quarterly
Language: English
Compatibility: iOS/Android App + Web Reader
Peek Inside
Tap images to enlarge...
About The Publisher
Medical World Magazine: Your Guide To The World of Medical Education and News Medical World Magazine began publishing in 2014 as "The Incredible Medical... read more

Past Issues
Tap below for more from Med World Magazine