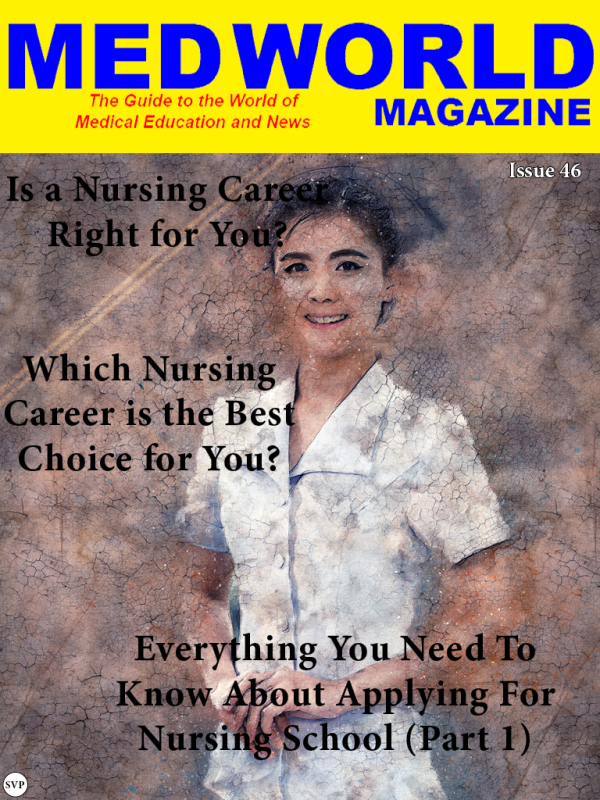 Purchase Options
Available for: iOS/Android App + Web Reader
In This Issue
Is a Nursing Career Right for You? Some Important Things to Consider

If you love caring for people, you may think that a career as a nurse is a natural fit. That may be true, but there is much more to nursing than treating colds and applying bandages. Becoming a nurse requires a big commitment in terms of time, money and dedication. Understanding the requirements of a nursing career is the best way to make sure this job is really the right choice for you.

Which Nursing Career is the Best Choice for Me?

One of the great things about the field of nursing is that there are so many career options available to experienced nurses. When you think of a nursing career, you probably picture busy professionals running around a hospital ward or helping patients in a medical clinic, but there is much more to nursing than that.

Everything You Need To Know About Applying For Nursing School (Part 1, From Issue #41)

Nursing is a great career choice to follow in the USA. The healthcare sector in the country has a continuous demand for nurses. If you have an interest in helping others medically, this is an excellent way to follow your passion. You'll also be glad to know that unique opportunities await you after the completion of your program. As appealing as a job in nursing may seem, it should be understood that applying to study it as a course requires thorough planning.
Purchase Options
Available for: iOS/Android App + Web Reader
About Med World
Med World Magazine is your quarterly guide to the world of medical education and news.
Stay up to date on important medical news, latest news release from medical schools, and read our medical educational articles.
Our supplemental issues contain numerous listings of important medical organizations, schools, publications and medical social media sites.
Category: Careers, Education, Family & Home, Medical, Personal Development
Publisher: Med World
Published: Quarterly
Language: English
Compatibility: iOS/Android App + Web Reader
Peek Inside
Tap images to enlarge...
About The Publisher
Medical World Magazine: Your Guide To The World of Medical Education and News Medical World Magazine began publishing in 2014 as "The Incredible Medical... read more

Past Issues
Tap below for more from Med World Magazine