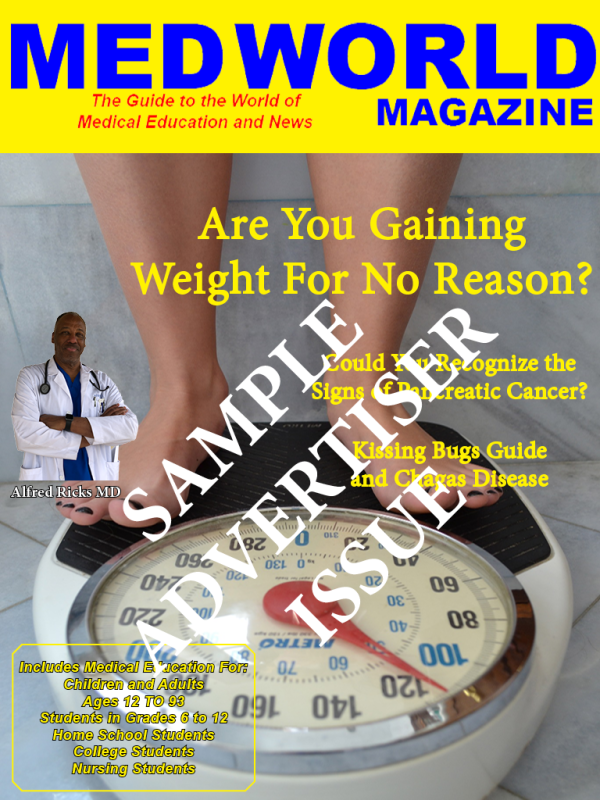 Purchase Options
Available for: iOS/Android App + Web Reader
In This Issue
Are You Gaining Weight for No Reason? A Self-Help Check-List

The most common reasons for weight gain are overeating and poor eating habit or lack of exercise. If you're eating a healthy, balanced diet and living an active lifestyle and you gain weight, you may wonder how that's possible. Inexplicable weight gain may have several less apparent causes. Use the following checklist to find the source of the problem and what to do about it.

Could You Recognize the Signs of Pancreatic Cancer?

During their lifetime, 16 out of every 1,000 people will receive a diagnosis of pancreatic cancer. Although survival rates are improving, pancreatic cancer is still essentially incurable; 4 out of 5 sufferers die within a year of diagnosis. Just like any other cancer, early detection increases the likelihood of effective treatment, so make sure that you know the signs, for yourself and for those you love.

Kissing Bugs Guide and Chagas Disease

Chagas disease, also called American trypanosomiasis, is a potentially deadly disease caused by the parasite Trypanosoma cruzi (or T. cruzi for short). Kissing bugs are insects that can carry Trypanosoma cruzi. Kissing bugs are also known as triatomines, cone-nose bugs, or chinches. Kissing bugs usually feed on blood during the night, when animals or people are asleep or inactive. They are called kissing bugs because they sometimes bite people on the face.

Acute Flaccid Myelitis

Acute flaccid myelitis (AFM) is a condition that affects the nervous system, specifically the spinal cord, causing weakness in one or more limbs. Practicing good hygiene is one way to protect yourself and your family from diseases that can cause AFM.
Purchase Options
Available for: iOS/Android App + Web Reader
About Med World
Med World Magazine is your quarterly guide to the world of medical education and news.
Stay up to date on important medical news, latest news release from medical schools, and read our medical educational articles.
Our supplemental issues contain numerous listings of important medical organizations, schools, publications and medical social media sites.
Category: Careers, Education, Family & Home, Medical, Personal Development
Publisher: Med World
Published: Quarterly
Language: English
Compatibility: iOS/Android App + Web Reader
Peek Inside
Tap images to enlarge...
About The Publisher
Medical World Magazine: Your Guide To The World of Medical Education and News Medical World Magazine began publishing in 2014 as "The Incredible Medical... read more

Past Issues
Tap below for more from Med World Magazine